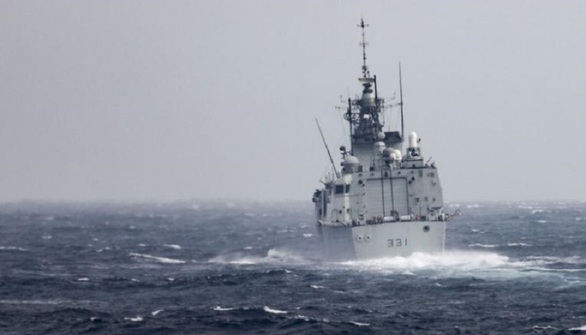 HMCS Vancouver of the Royal Canadian Navy – Photo: US NAVY
Lieutenant Mark Langford, a spokesman for the US Navy, said the USS Higgins, an Arleigh Burke-class guided-missile destroyer, "conducted a routine transit" through the Taiwan Strait on September 20.
According to Lieutenant Langford, the US Navy ship made the transit "in cooperation with the Royal Canadian Navy's Halifax-class destroyer HMCS Vancouver," according to CNN.
Spokesman Langford said the two ships were "transiting through a corridor in a strait beyond the territorial sea of ​​any coastal state".
The move "demonstrates the commitment of the United States and our allies and partners to a free and open Indo-Pacific".
This is the second time in just three weeks a US Navy warship has made such a transit. The guided-missile cruisers USS Antietam and USS Chancellorsville made a similar voyage on August 28.
The Canadian Ministry of Defense confirmed the participation of a Canadian warship in a transit through the Taiwan Strait on September 20.
A US defense official told CNN that since the visit to Taiwan by US House of Representatives Speaker Nancy Pelosi in early August, Washington has seen a significant increase in the number of Chinese warships and submarines around. this island.
While the United States calls the transit "routine," the USS Higgins' trip comes after Biden's pledge to anger Beijing last weekend. In his toughest statement yet on Taiwan, Biden said Washington would defend the island in the event of an attack by China. However, he reiterated that the US does not support Taiwan independence and still supports the "One China" policy.
On September 19, China's Foreign Ministry strongly reacted to Mr. Biden's statement, criticizing it as contrary to Washington's pledge not to support Taiwan independence.
According to CNN, the last time US and Canadian warships transited through the Taiwan Strait was 11 months ago. Soon after, the Chinese military's Eastern Theater Command criticized the trip, saying that the US and Canada "have carried out provocative actions", "severely affecting peace and stability". settlement in the Taiwan Strait".
Mr. Biden pledged that the US would defend Taiwan