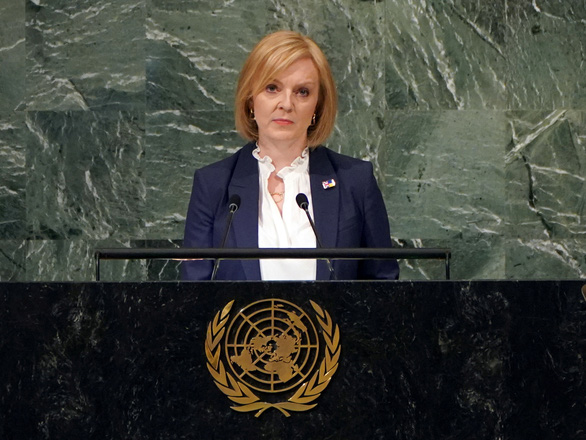 British Prime Minister Liz Truss addresses the United Nations General Assembly on September 21 – Photo: REUTERS
"We will never recognize these purported mergers and sham 'referendums' conducted at gunpoint." That is the statement of the foreign ministers of 7 countries Canada, France, Germany, Italy, Japan, the United Kingdom, the United States, along with the European Union (EU).
They added: "We will impose additional economic costs on Russia and the individuals and entities – both inside and outside Russia – that have politically or economically supported acts of misconduct." violate this international law".
In a separate statement, British Prime Minister Liz Truss said London will never accept the regions of Donetsk, Lugansk, Kherson and Zaporizhzhia as part of Russia. She thinks Russian President Vladimir Putin has violated international law.
Meanwhile, on behalf of the 27 EU member states, the European Council accused Russia of deliberately undermining the international order and said this put global security at risk.
"We will never recognize the illegal 'referendums' that Russia has created as a pretext for further violations of Ukraine's independence, sovereignty and territorial integrity." European Council declared.
They added: "We will strengthen restrictive measures against Russia's illegal actions. They will increase pressure on Russia to end the war."
September 30, tDuring the televised ceremony, President Putin signed documents officially annexing four regions of Ukraine to Russia after recent referendums in these regions.
These regions are Donetsk, Lugansk, Kherson and Zaporizhzhia – where Russian forces/Russian-backed forces control in large part or in part. These territories account for more than 15% of Ukraine's territory.
According to Reuters news agency, on September 30, the United States imposed new, far-reaching sanctions on Russia for its annexation of four Ukrainian territories. The sanctions target hundreds of people and companies, including those in Russia's military-industrial complex and its lawmakers.