"The person who has just been arrested by the US Secret Service is named John Andrew Bazor Jr., 37 years old. He called the White House switchboard number and claimed to have planned to assassinate President Joe Biden" – the newspaper NewsWeek reported on July 20.
According to Court records, family members of John Andrew Bazor Jr. told authorities he had mental health and substance abuse problems.
Currently, the federal investigation agency is verifying the medical history of the person who threatened to assassinate President Joe Biden NewsWeek let me know.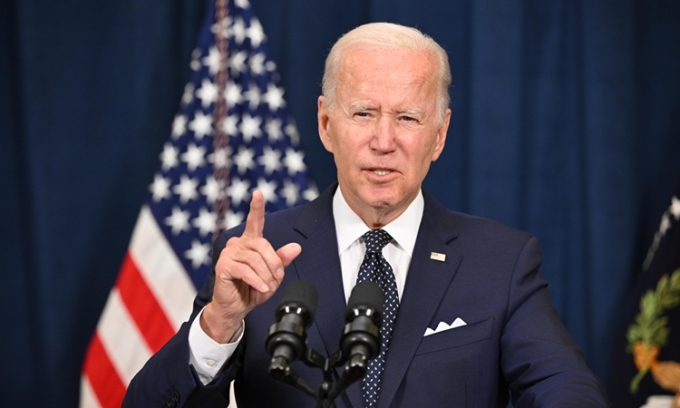 US President Joe Biden has just been "threatened to assassinate". Photo: Reuters
Elsewhere, President Biden said he had "cancer" because of emissions from oil refineries in the US, prompting the White House to later clarify the statement.
Mr. Biden's "hidden" statement was made on July 20 (US time) in the town of Somerset, Massachusetts, when talking about the increasingly warming global climate.
"Emissions from refineries near the house I lived in as a child in Claymont, Delaware caused a lot of problems in the area." NewsWeek "Claymont has more refineries than Houston, Texas, and my mother used to have to wipe the oil stains off the windshield of her car every morning when she drove me to school," Biden said.
The US president continued: "You know what happens in the early morning? You'll have to turn on the wipers to wipe the oil from the windshield. That's why me and many of my friends my age have cancer and It's also why Delaware has the highest cancer rate in the United States for a long time."
Because Mr. Biden uses the verb "have cancer" in the present tense, many people think he is announcing his current state of health.
Therefore, the White House then had to clarify Biden's statement and said that the President did not have cancer, but only mentioned treatments to remove skin cancer cells, before taking office on January 1. 2021.
In fact, in his health report last month, Mr. Biden's doctor Kevin O'Connor also did not mention cancer of the head of the White House. Dr O'Connor said Mr Biden had skin cancer caused by sun exposure as a young man "not caused by chemicals from the refinery".
In addition, Dr O'Connor also said that President Biden "frequently clears his throat and coughs when he speaks, suffers from seasonal allergies and has a less flexible gait". However, O'Connor concluded that Mr Biden was "fit enough to successfully carry out the duties of the President of the United States".