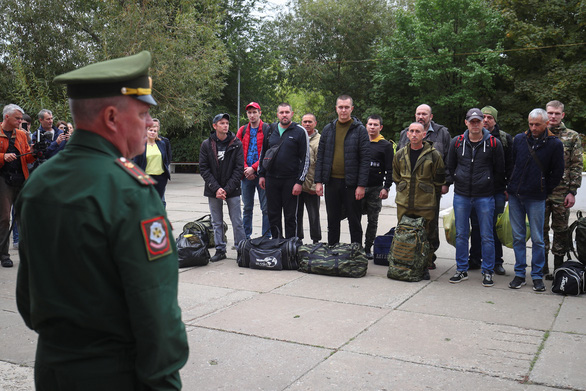 Russian reserve troops gathered in the Volgograd region on September 28 to prepare for a military training course – Photo: REUTERS
In a notice on its official website on September 27, the US Embassy in Ukraine said that citizens with dual Russian and American citizenship may be called up to join the army during a partial military mobilization in Russia to supplement. force for the conflict in Ukraine.
"Russia can refuse to recognize the US citizenship of dual nationals, deny them their right to access US consular assistance, prevent them from leaving Russia, and compel dual nationals. join the military service," the US Embassy announced.
The agency warned people residing or traveling within Russia "should leave Russia immediately while limited commercial travel options remain", while other citizens "should not travel to Russia". ".
According to the US delegation, commercial flights from Russia are currently "extremely limited" and often unavailable for a short time, so those who want to leave need to prepare as soon as possible.
At the same time, Bulgaria and Poland also called on citizens to leave Russia immediately and limit travel to the country.
"In the event of a severe deterioration of the security situation, border closures or other circumstances of force majeure, evacuation may be significantly impeded or even impossible," the report said. Guardian quoted the Polish Foreign Ministry as explaining.
The Russia-Ukraine conflict situation is more tense than ever when Russia announced a partial military mobilization to add forces to participate in the military campaign in Ukraine and four regions in Ukraine voted to join Russia. .
Russian leaders affirmed that Moscow will use all means, including nuclear, to protect the newly annexed territory.
Regarding the military mobilization order, the Russian Ministry of Defense announced that it has begun the process of training reserve troops across the country.
Tensions between Russia and the West also increased after the consecutive leaks of two gas pipelines from Russia to Europe, Nord Stream 1 and 2, on September 27 and 26. Europe considers this an act of sabotage and pledges to protect energy systems.
Russia denies that it leaked the Nord Stream gas pipeline, even questioning the US's involvement in this incident.
"It is quite predictable and stupid," Kremlin spokesman Dmitry Peskov said on September 28, saying that Russia has no interest in sabotaging pipelines while gas prices are currently expensive. such red.
Russia even questioned the opposite of the US. "On February 7, (US President) Joe Biden said that Nord Stream would end if Russia attacked Ukraine. Mr. Biden was obliged to answer the question of whether the US would carry out its threat." AFP news agency quoted Foreign Ministry spokeswoman Maria Zakharova as saying.