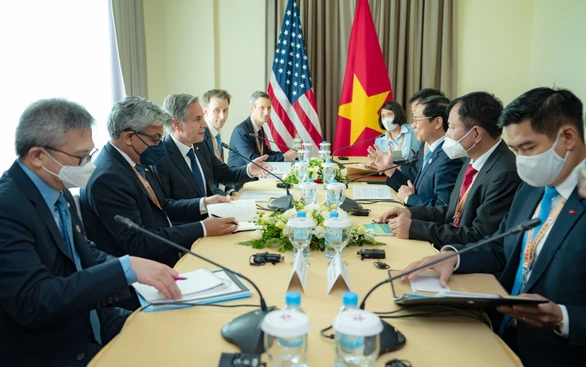 The US and Vietnamese foreign ministers met on the afternoon of August 5 in Cambodia – Photo: Facebook US Embassy in Vietnam
"I am delighted to meet Minister Bui Thanh Son today. Through the US-Vietnam Comprehensive Partnership, we are working increasingly closely together towards shared prosperity and security.
The strong friendship and shared strategic vision between the US and Vietnam will certainly grow," the US Embassy quoted Secretary of State Blinken as saying after the meeting.
According to a statement by the Vietnamese Ministry of Foreign Affairs, at the meeting with Foreign Minister Blinken, the two sides highly appreciated the results of the contacts between the leaders of the two countries, creating a driving force for the Vietnam – US Comprehensive Partnership.
The two sides agreed to coordinate in implementing activities to celebrate the 30th anniversary of the establishment of relations, increase the exchange of delegations at all levels, especially high-level, and enhance more effectively exploiting the trade and investment potentials of each country. parties, contributing to promoting inclusive growth in the Asia-Pacific, and promoting cooperation in overcoming the consequences of war.
The two foreign ministers agreed to exchange and coordinate at regional and international forums on issues of mutual concern, including strengthening cooperation with ASEAN and the Mekong sub-region, handling disputes in accordance with the law. international law, maritime capacity building, human rights issues, etc.
In addition to the US secretary of state, Minister Bui Thanh Son also met with foreign ministers of a number of countries attending the ASEAN conference series such as China, Australia, New Zealand, India, Sri Lanka, etc.
July 25, 2022 marks 9 years since the United States and Vietnam established a comprehensive partnership. "We are proud to celebrate the achievements we have made during the nine years of the US-Vietnam Comprehensive Partnership and look towards a brighter future," said US Ambassador to Vietnam Marc Knapper. Facebook page of the US Embassy in Vietnam on the evening of July 25.
Currently, Vietnam is promoting the visit of President Joe Biden this year. The US leader is expected to travel to Southeast Asia to attend a series of regional and world summits in November.