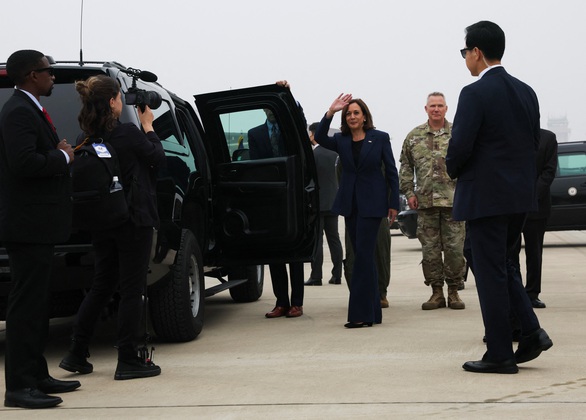 US Vice President Kamala Harris (third from right) at Osan Air Base, South Korea on September 29 – Photo: REUTERS
Ms. Harris landed at Osan Air Base, South Korea after a previous visit to Japan, according to AFP news agency. She is expected to meet South Korean President Yoon Suk Yeol on the morning of September 29.
Speaking before leaving Japan, Harris said North Korea threatened the stability of the region with new missile launches and criticized Pyongyang's weapons program.
During a one-day visit to South Korea, Harris will emphasize the US commitment to protect its allies, according to a senior Washington administration official.
Harris will condemn North Korea's missile launch a day earlier and discuss Seoul's concerns about changes to electric vehicle subsidies, a White House official said on Wednesday. of the United States in talks with Mr. Yoon.
The US vice president is also expected to visit the demilitarized zone (DMZ) Panmunjom, a move that will anger North Korea.
The trip to the DMZ is expected to be a strong signal of US commitment to its ally amid intelligence assessments that North Korea is preparing to conduct a seventh nuclear test, according to Yonhap News Agency.
The latest, on September 28, South Korea's National Intelligence Service (NIS) said that North Korea may conduct its seventh nuclear test between October 16 and November 7.
On the afternoon of September 28, Japan and South Korea announced that North Korea had launched a short-range ballistic missile into the East Sea. On September 25, Pyongyang also launched a ballistic missile into the sea.
The United States and South Korea are conducting a large-scale joint naval exercise this week in a show of strength in the face of North Korea's growing provocations.