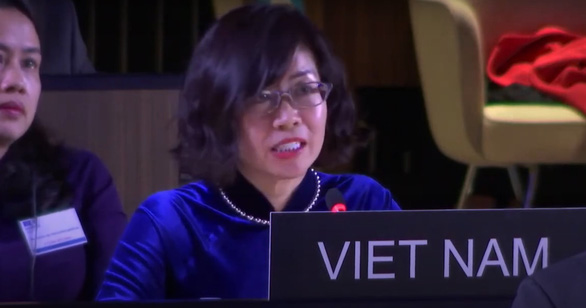 Ambassador Le Thi Hong Van speaks before the voting session on July 6 – Screenshot
The 24-member Intergovernmental Commission on the 2003 Convention is UNESCO's key executive body for the protection of intangible cultural heritage, recommends measures to protect intangible heritage, and provides international assistance. economy, review enrollment applications,…
This is the second time that Vietnam has taken on this role at the key cultural governing body of the United Nations Educational, Scientific and Cultural Organization (UNESCO).
This shows the international community's confidence in Vietnam's ability to contribute and operate in global multilateral institutions, and is a recognition of Vietnam's contributions in preserving keep, preserve and promote the value of intangible heritage in the country and in the world", the statement of the Ministry of Foreign Affairs issued late on July 6, stated the paragraph.
The voting session was conducted during the 9th session of the General Assembly of States Parties to the 2003 Convention in Paris (France). Vietnam received 120 votes in favor, the highest among countries elected for the 2022-2026 term, according to the Ministry of Foreign Affairs.
Speaking at the meeting, Ambassador Le Thi Hong Van, head of the Permanent Mission of Vietnam to UNESCO, affirmed that Vietnam is willing to work more closely with UNESCO and cited Vietnam's efforts in conservation. protect and promote intangible cultural heritage.
In the statement of the Ministry of Foreign Affairs, Ms. Van said that being elected to the committee on the 2003 Convention will create conditions for Vietnam to contribute more to UNESCO, raising the importance of intangible cultural heritage.
In addition to the above committee, Vietnam is also a member of the Executive Council of UNESCO for the term 2021 – 2025, a member of the Intergovernmental Committee of the 2005 Convention on the Protection and Promotion of Diversity of Cultural Expressions for the term of 2021. 2021 – 2025.
According to the Ministry of Foreign Affairs, the newly elected position will help Vietnam continue to actively and actively contribute to the major programs and orientations of UNESCO in general and on culture in particular, thereby affirming its role Vietnam's prestige at UNESCO and in the international arena.
The 2003 Convention is an abbreviation for the Convention for the Protection of the Intangible Cultural Heritage, which was adopted by UNESCO in 2003 and currently has 180 member countries.
Vietnam officially joined the 2003 Convention on September 5, 2005 and was among the first countries to ratify it. The ninth session of the 2003 Convention will take place from July 5-7, 2022 with the participation of 180 member states, according to UNESCO.
Nguyen Dinh Chieu and the ideals and missions of UNESCO