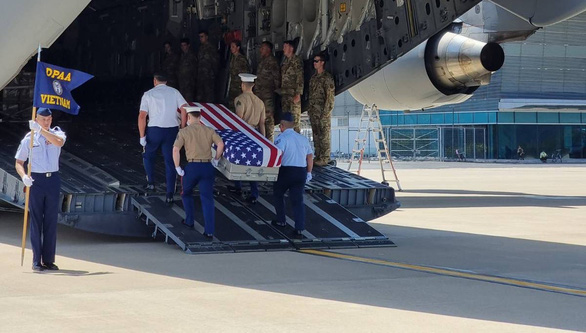 The ceremony to return the remains of American soldiers in Da Nang in June 2022 – Photo: DPAA HANOI
According to the Vietnamese Ministry of Foreign Affairs, the repatriation ceremony for the remains of US service members missing during the Vietnam War (MIA) took place on September 16 at the US MIA Office in Hanoi.
Attending the ceremony, on the Vietnamese side, were the Board of Directors of the Vietnam Agency for Searching for Missing Persons (VNOSMP). On the US side, there were Ambassador Marc E. Knapper, some members of the US Embassy in Vietnam, leaders of the MIA Office and some employees.
At the ceremony, the representative of Vietnam handed over to the US side a set of remains as a result of the 148th search operation (August and September 2022).
The remains were examined by Vietnamese and American forensic experts in Hanoi, and concluded that they may be related to the case of American soldiers missing during the war in Vietnam. This remains will be transferred to the US state of Hawaii for further verification.
The search for remains of American soldiers missing during the war in Vietnam is a humanitarian activity between the two Governments of Vietnam and the United States.
The issue of Americans missing after the war and prisoners of war (POW/MIA) used to be one of the obstacles to be solved in the process of the two countries moving towards normalizing diplomatic relations.
Starting in the field since 1988, activities related to POW/MIA have contributed to alleviating the grief and loss of American families whose loved ones have disappeared or died in Vietnam.
These activities also demonstrate the tradition of peace and tolerance of the Vietnamese people, leaving behind the past, strengthening the friendship between the two peoples, which is a decisive step for the two countries to normalize relations.
According to the latest statistics released by the US Department of Defense (DPAA)'s Search for POWs and Missing Servicemen (DPAA) in March 2021, from 1973 to now, there have been more than 1,000 sets of human remains. The United States was repatriated from Vietnam and the countries involved in the war in Vietnam. The number of American soldiers believed to be missing is more than 1,500.