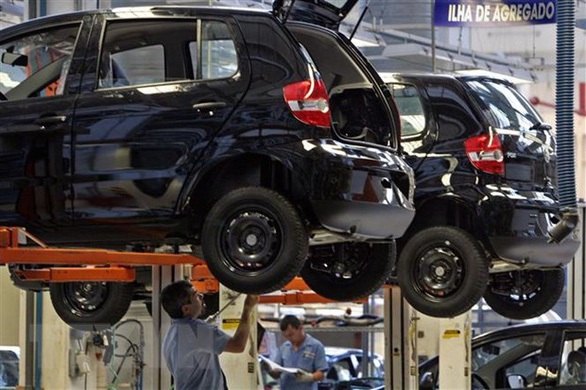 German auto giant Volkswagen has announced it will invest $2.2 billion to build a new electric car factory. The battery is considered the oxygen of electric cars – Photo: AFP
Manufacturing high-tech batteries is one of the ways to hold the destiny of electric cars, vehicles of the future, without emitting environmental pollution.
Energy research and consulting firm Wood Mackenzie makes a modest prediction that electric vehicles will account for 18 percent of new car sales in 2030. That would mean battery demand would be eight times higher than current production.
Producing high-tech batteries for electric vehicles has become a "gold mine" that many people look at, but requires large capital. In Vietnam, there are now "players" entering the scene.
In mid-July, HC Starck Tungsten Powders (HCS) – an indirect subsidiary of Masan Group – has just signed an agreement to invest in Nyobolt Limited – a high-capacity battery manufacturing company that owns a fast charging solution.
To complete this deal, holding 15% of capital on diluted shares in Nyobolt, the business related to billionaire Nguyen Dang Quang had to spend 52 million euros, equivalent to 1,230 billion dong.
Nyobolt is currently the only company in the field of manufacturing Tungsten application batteries with high potential for commercialization in the near future.
The battery produced by this company has many outstanding advantages such as: the battery is more than 90% full in less than 5 minutes, the capacity is 10 times higher, so it is smaller and lighter in size, 10 times more durable to save money. cost, higher heat resistance should reduce the risk of fire and explosion…
Nyobolt's customers will be companies producing industrial electric vehicles requiring high capacity, automation equipment, consumer devices, wireless tools, energy storage systems and mobile fast charging. .
Professor Clare Gray – scientist and co-founder of Nyobolt – said that the company's investment related to billionaire Nguyen Dang Quang not only supports Nyobolt's expansion in the United Kingdom and the United States, but also offers sustainable energy storage solutions.
In a related development, recently, the electric car company VinFast of billionaire Pham Nhat Vuong also announced that it has invested in ProLogium – the world's leading company in solid-state battery production – through a company with Vingroup. . Although the total value is not disclosed, it is estimated that the amount is in the tens of millions of dollars.
In addition to announcing the investment deal, VinFast also signed a memorandum of understanding (MOU) on a number of strategic agreements to ensure the supply of solid-state batteries for its electric vehicles. These two units may also consider the possibility of establishing a joint venture to produce solid-state batteries in Vietnam.
Recently The European Union has adopted a ban on gasoline and diesel cars by 2035, to limit CO2 emissions. In the UK, tFrom 2030 there will also be no sales of petrol and diesel cars and trucks in the UK, 10 years earlier than planned.
Entering the battery production and supply chain, which is the "oxygen" for electric cars, requires a huge amount of money in the early stages, but the potential for profit is not small.
Volvo, the Swedish carmaker owned by China's Zhejiang Jie Li Group, has announced plans to become an all-electric vehicle company by 2030.
Jim Rowan – the new CEO and president of Volvo Car – predicts the shortage of battery supply will put pressure on the electric vehicle sector. To maintain a foothold in the market, businesses must make many investments.
In the meantime, answer CNBCa Volvo Car representative said that the business has made an investment in battery manufacturer Northvolt to be able to manage the battery supply for the company.
"Increased to the point of madness!" is what billionaire Elon Musk – CEO of Tesla – posted on Twitter to comment on the price of lithium, a key component of electric vehicle batteries.