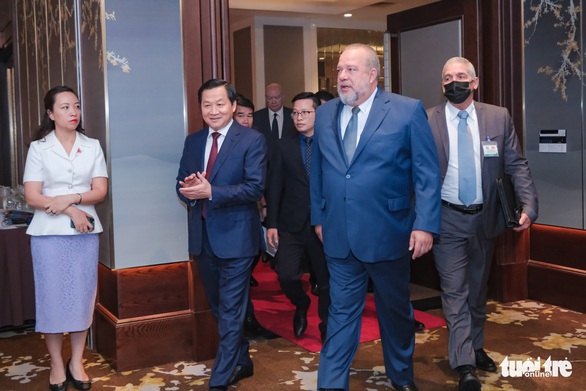 Cuban Prime Minister Manuel Marrero Cruz, Deputy Prime Minister Le Minh Khai and representatives of some Vietnamese and Cuban ministries attended the Vietnam – Cuba business promotion forum on the morning of September 30 in Hanoi – Photo: NAM TRAN
Speaking at the event, Prime Minister Manuel Marrero Cruz Although facing many difficulties from the policy of encirclement, embargo, epidemics and recently natural disasters, storms and floods, Cuba's economy and society still have progress.
The fields that are currently focused by Cuba are agriculture, industry, tourism, biotechnology, pharmaceuticals, health care, and information technology.
Mr. Manuel Marrero Cruz also said that Cuba has recently revised and added a number of preferential policies to attract investment such as allowing localities to sell goods without intermediaries…
The Cuban Prime Minister pledged to give priority and the most favorable conditions for Vietnamese businesses to invest in Cuba in particular and the Vietnam – Cuba trade relationship in general.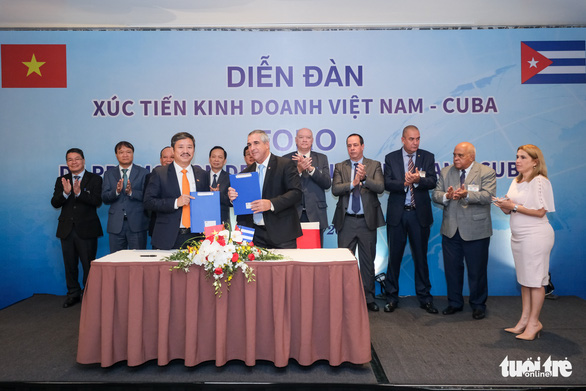 10 memorandums of understanding on cooperation in the fields of clean energy, pharmaceuticals, biotechnology and agriculture were signed by representatives of Vietnam – Cuba businesses at the forum on September 30 – Photo: NAM TRAN
In his speech, Deputy Prime Minister Le Minh Khai recalled the especially good relations between the two countries over the years.
In addition to maintaining a stable supply of rice to Cuba, Vietnamese enterprises also export a variety of goods to Cuba such as electrical appliances, electronics, clothing, shoes, cosmetics, construction materials, and materials. industrial, household appliances, stationery, food…
Mr. Khai expressed his hope that businesses will make good use of tariff preferences between the two countries, striving to increase trade turnover to 500 million USD in the next 5 years.
After the speech of the representatives of the two governments, the business representatives of the two countries were introduced to the guidelines, policies, priority areas to attract foreign investment in Cuba and business cooperation opportunities.
Mr. Tran Dinh Quyen, Chairman of Tin Thanh Group, shared the difficulties and made 7 recommendations, wishing the Vietnamese and Cuban Governments to have the same solution. He said that for many reasons, even though he has been to Cuba many times, no project has come to fruition.
Another business leader in the sports equipment manufacturing industry expressed his desire to open a chain of retail stores and gyms in Cuba, wishing to have more exchanges between the two volleyball teams.. .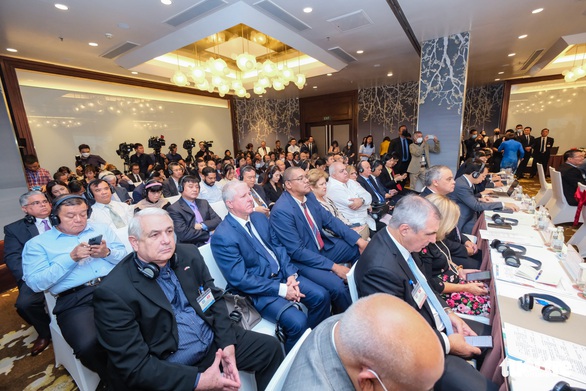 Vietnamese and Cuban businesses attend the Vietnam – Cuba business promotion forum – Photo: NAM TRAN
Mr. Rodrigo Malmierca Diaz – Minister of Foreign Trade and Foreign Investment of Cuba – affirmed that Vietnam is the Asian country that has invested the most in Cuba in recent years and there is still a lot of room for that relationship to develop further. again.
The Cuban minister believes that the two economies of Vietnam – Cuba can complement each other and that Cuba, with the Mariel Special Development Zone, will always give Vietnam the best preferential conditions.
At the end of the event, after listening to the comments and concerns that Vietnamese businesses interested in the Cuban market shared at the event, Mr. Rodrigo Malmierca Diaz said legal problems needed time to resolve.
The Cuban minister also shared a story about a major cooperation project in the field of clean energy and agriculture between Cuba and a Vietnamese enterprise based in Ho Chi Minh City. However, because of foreign embargoes, this project has come to a standstill.
He affirmed that the Cuban side is always ready to take steps to facilitate investment and suggested that Vietnamese enterprises should invest and produce in Cuba to reduce product costs, thereby making them more competitive.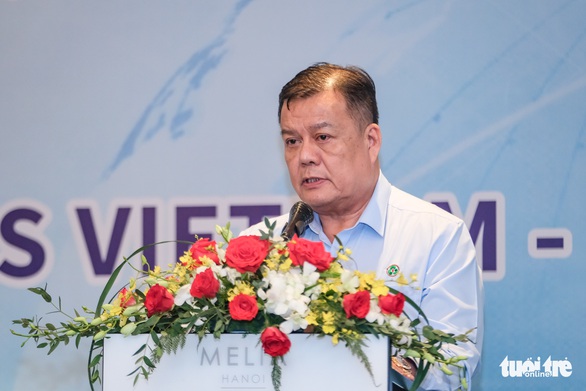 The leader of a Vietnamese enterprise poses a problem with leaders of Cuban and Vietnamese ministries and branches at the Vietnam – Cuba business promotion forum on September 30 – Photo: NAM TRAN
Currently, Vietnam has 5 investment projects in Cuba, including 4 projects in Mariel Special Zone, including ViMariel industrial park located right in the heart of the special zone, only about 45km from the capital Havana.
Suchel laundry detergent joint venture and Thai Binh Green Power solar project will come into operation in November and December 2022, respectively, and are expected to gradually meet market demand and increase output. electricity in Cuba.