At the ceremony, Associate Professor Dr. Hoang Thi Diem Tuyet, Director of Hung Vuong Hospital, said that breast milk not only helps children grow up quickly and comprehensively, but also strengthens the immune system, especially during the period. The child's immune system is not yet fully developed. Medical evidence shows that, for high-risk children, including premature babies, low-birth-weight babies, sick children or orphans, children infected with COVID-19, breast milk is a special medicine that helps strengthening resistance, immunity, helping the survival ability of critically ill infants who cannot be breastfed while being treated at the hospital.
The idea of ​​forming a breast milk bank for babies came to the medical staff of Hung Vuong Hospital when the COVID-19 pandemic was at its peak, when every day the hospital had more than 200 pregnant women becoming F0. The number of newborns born to pregnant women with COVID-19 is increasing, disadvantaged children cannot go home, because almost all family members are F0. Besides, the hospital is overloaded when every day more than 200 babies are born while the capacity to care here is only over 100 children. Therefore, the hospital established the HOPE Center to temporarily nurture the children while waiting for the mothers to be negative for SARS-CoV-2. Although there are many women who volunteer to be mothers and take good care of their babies, the children still suffer when they do not have breast milk.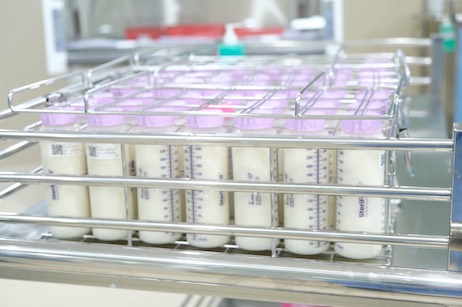 Hung Vuong Hospital Milk Bank has a sterilization capacity of 62 liters of milk/day
The breast milk bank of Hung Vuong Hospital was established on the occasion of the peak days of the COVID-19 epidemic (July and August 2021). After more than 9 months of efforts, the hospital was officially put into operation, after being appraised by the Department of Health. With an investment scale of nearly 6 billion VND, this is the fourth breast milk bank in Vietnam but the largest scale in the country.