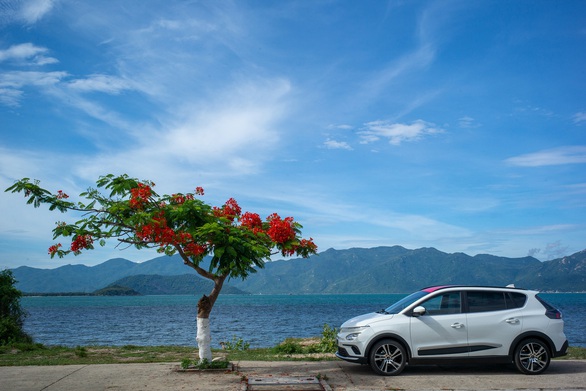 Electric vehicle model VF e34. Photo: D.H
The representative of this unit emphasized that the battery subscription policy is built on the principle of ensuring that the total monthly cost of battery rental and charging of VinFast electric vehicles is always lower than the gasoline cost of equivalent petrol cars.
"Accordingly, the battery subscription price will be adjusted up and down according to the price of petrol and electricity on December 1 every year," this person shared.
However, to thank the pioneer customers who buy and use electric vehicles, the Vietnamese car company has decided to fix the battery subscription fee throughout the product life for all cars sold in 2022 and 2023. .
"The above preeminent policy will be maintained continuously, even when the car is transferred. This is a special gratitude gift we give to customers who have trusted in choosing electric cars of the company in the first years. , and at the same time ensure peace of mind for users in the context of gasoline prices continuously increasing sharply over the past time", this person added.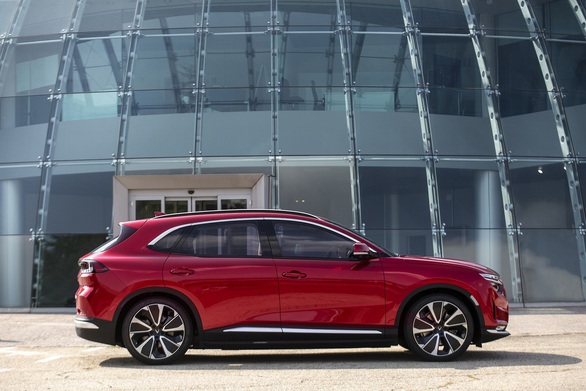 The VF8 electric car model of the Vietnamese car company. Photo: D.H
Currently, VinFast is offering 2 battery subscription options for customers using electric cars, including the Flexible package (applicable for a travel distance of 500km per month) and the Fixed package (unlimited travel distance). transfer).
Specifically, the monthly flexible battery subscription for VF e34, VF 8 and VF 9 is VND 657,500, VND 990,000 and VND 1,100,000 respectively. In case the customer travels more than 500km/month, the fee incurred for each additional km is only 1,315 VND for VF e34, 1,980 VND for VF 8 and 2,200 VND for VF 9.
With the Fixed package, the monthly battery subscription is VND 1,805,000 for VF e34, VND 2,189,000 for VF 8 and VND 3,091,000 for VF 9 respectively. The above prices are all inclusive of tax. value added (VAT).
The fixation of battery rental prices for electric cars sold in 2022 and 2023 in the Vietnamese market, according to experts, also shows consistency with the international markets in which the Vietnamese car company is doing business. , including the US, Canada and Europe.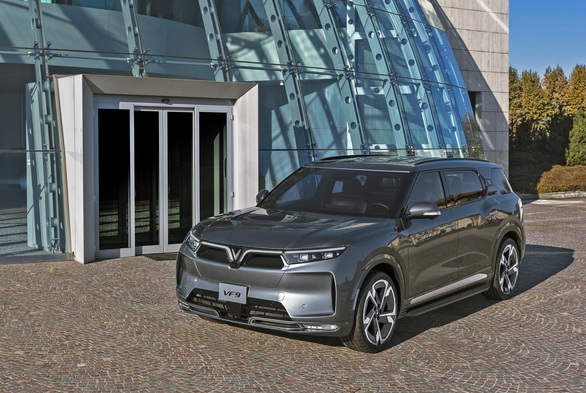 Electric vehicle model VF9. Photo: D.H
According to Mr. Hoang Chi Trung, General Director of VinFast Trading Vietnam, with the philosophy of "Putting customers as the center", this unit always listens, researches and offers the most suitable and beneficial policies for customers. .
"The fixation of battery subscription prices for pioneering customers to buy electric cars in the first two years is a clear demonstration of that philosophy. We believe that this new policy will create maximum convenience and peace of mind for customers during the product use period, thereby contributing to a stronger promotion of the Green mobility revolution in Vietnam. as well as on a global scale," Trung said.
In addition to the unique battery subscription policy, VinFast electric cars currently have a 10-year genuine warranty, free 24/7 rescue, and free parking at Vincom shopping centers and urban areas. Vinhomes nationwide.
VinFast also provides 24/7 electric car battery rescue services (Mobile Charging) and mobile repair services (Mobile Service), helping to create maximum convenience and peace of mind for customers during use. According to the battery rental policy, customers will be replaced with a new battery completely free of charge when the charging capacity drops below 70%.