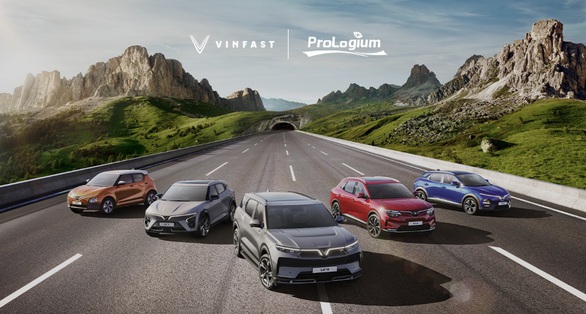 VinFast invests in ProLogium, aiming to bring a more enjoyable and safer driving experience to everyone. Photo: D.H
Through a company with Vingroup, the two sides signed a Memorandum of Understanding (MOU) on a number of strategic agreements to ensure the supply of new-generation solid-state batteries for VinFast electric vehicles, supporting the goal of bringing new generation of solid-state batteries to VinFast electric vehicles. smart mobility solutions to the global market.
Along with the investment in ProLogium, a representative of the Vietnamese car company said that it will join ProLogium to become a long-term strategic partner in the future.
The two parties will sign cooperation agreements to develop a battery pack design using ProLogium's solid-state battery technology, meeting the strict standards of parameters, quality and safety of our car company.
ProLogium also plans to supply solid-state batteries for new VinFast electric vehicle models starting from 2024. Accordingly, most of the output from ProLogium's 3GWh factory, which is expected to go into operation from the beginning of 2023, will be produced. provided to VinFast.
According to experts, solid-state batteries are one of the most promising technologies today with the advantages of safety, energy density, super-fast charging, recyclability, weight optimization, cost and lifespan.
With this strategy, VinFast aims to ensure battery supply with world-leading technology, proactive in the number and type of batteries, suitable for the needs of each electric vehicle.
According to Le Thi Thu Thuy, Vice President of Vingroup and Global General Director of VinFast, this unit focuses on investing and building strategic cooperation relationships with leading names in the industry and technology companies. breakthrough to quickly grasp and apply technology for smart and sustainable mobility solutions.
"ProLogium is one of the key partners, helping us quickly master solid-state battery sourcing, continuing to deliver electric vehicle products with advanced battery technology for a safer and more enjoyable driving experience." ", said Mrs. Thuy.
According to experts, ProLogium's capabilities were demonstrated through the first production line for consumer products in 2013, and the test line for electric vehicle battery production in October 2017. ProLogium has established more than 4,000 quality control items in the manufacturing process, achieving production efficiencies of up to 99.9% with monolayer cells and 94% with multilayer cells.
This is the premise for ProLogium to build the first commercial-scale battery factory with a capacity of 3GWh. To date, ProLogium has delivered more than 7,300 solid-state battery cells for electric vehicles with capacities of 50Ah – 60Ah to automotive partners around the world for quality testing, and more than 1 million cells have arrived. clients for consumer applications.
"ProLogium is constantly evolving, improving next-generation battery technology and manufacturing capabilities. With a well-established development roadmap, proven manufacturing processes, strategic supply partners, strong backing From customers and a strategy of continuous innovation, ProLogium is pioneering the production of next-generation batteries, contributing to a green future", the representative of this unit added.