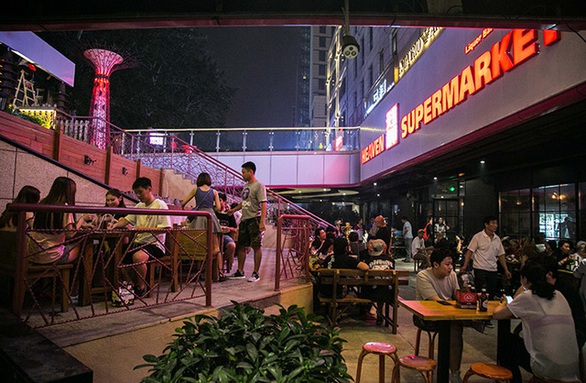 Bar at Heaven supermarket, Chaoyang district, Beijing (China) – Photo: THAT'S
According to Reuters news agency, on June 11, the Beijing government (China) said they discovered a new COVID-19 outbreak on June 10 in a bar at Heaven supermarket in Chaoyang district.
Beijing health official, Mr. Liu Xiaofeng, said on June 11 there were 46 infections at the bar. However, according to the latest updated data, the number of COVID-19 cases in this outbreak has reached 166 on June 12.
In Shanghai on June 11, officials announced three new confirmed cases of COVID-19 and one asymptomatic case detected outside the quarantine area. Nearly all of the city's 25 million residents have begun a new round of COVID-19 testing.
Authorities ordered PCR testing of all residents in 15 of Shanghai's 16 counties over the weekend. There are 5 counties that ban people from leaving their homes during the testing period. A city official said residents should complete at least one PCR test per week through July 31.
As of 3pm on June 12 (7am GMT), Beijing has reported 1,997 cases of COVID-19 since April 22.
The Beijing Sports Administration also announced that all youth sports activities in and out of schools will be canceled from June 12.
Although China's infection rate is low by global standards, the country maintains a no-COVID-19 policy. The reason given is the need to protect the elderly and the health system, even as other countries are trying to live with the SARS-CoV-2 virus.
The country of 1.4 billion people has so far seen 5,226 deaths from COVID-19.
As of June 10, China has confirmed 224,659 symptomatic cases of COVID-19 infection.