"It is necessary to clearly determine whether the object of the attack on the referee is a fan or an employee of Lach Tray Stadium. Currently, through the information reflected, this is quite complicated, it takes time to collect records. We will wait for the full report of the BTC before making a decision," said Vu Xuan Thanh. According to Mr. Vu Xuan Thanh, regardless of who attacked referee Hoang Ngoc Ha, the organizers of Lach Tray Stadium did not do a good job of ensuring security and safety.
The incident happened on the afternoon of July 19 after the match between Hai Phong and Topenland Binh Dinh in the 8th round of Night Wolf V-League 2022. Although Hai Phong won 3-1, Chairman Van Tran Hoan reacted quite harshly to the company. arbitration.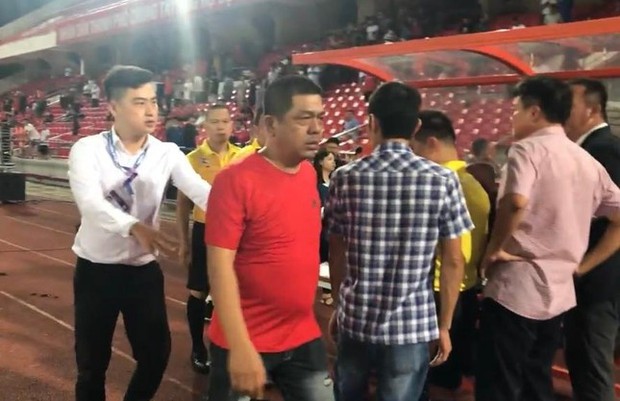 VFF dare to be strong with uncultured behavior on Lach Tray field?
The recorded clip shows that after the match, Mr. Hoan stood next to the cabin with the referee team on duty. At the same time, Mr. Van Tran Hoan asked "Where is fat Dung?", immediately a person wearing a red shirt appeared, approaching where the referees were working. This person grabbed the neck, spit in the face of referee Hoang Ngoc Ha. Mr. Ha was stunned but then continued to do the match report.
This person was later identified as Tran Tien Dung, a port land fan famous for flares. Lighting flares is also a habit of Hai Phong President Van Tran Hoan when working as a fan.
In 2012, Tran Tien Dung was prosecuted by the Criminal Police Department (C45) for causing public disorder when he participated in attacking referee Vo Minh Tri, causing Mr. Tri's injury rate 2%. The court sentenced defendant Tran Tien Dung to 1 year in prison and suspended a sentence.
Some newspapers quoted Mr. Van Tran Hoan denied that Tran Tien Dung was an employee of Hai Phong Club. However, in the report, referee Hoang Ngoc Ha confirmed that he was attacked by Hai Phong staff.