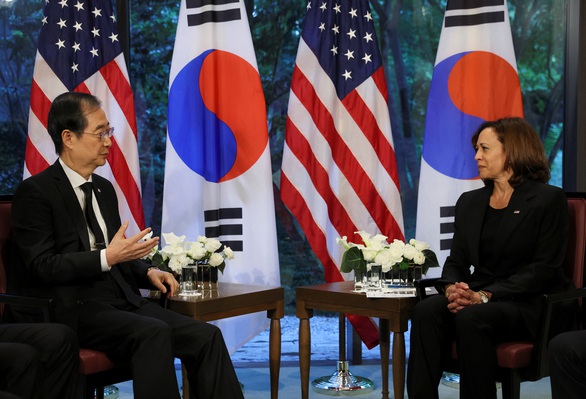 US Vice President Kamala Harris (right) holds talks with South Korean Prime Minister Han Duck Soo in Tokyo, Japan, September 27 – Photo: REUTERS
According to AFP news agency, Ms. Harris is in Tokyo to attend the national funeral of former Japanese Prime Minister Shinzo Abe. A White House official said Harris will visit the demilitarized zone (DMZ) Panmunjom on September 29.
Observers fear the move is likely to anger North Korea. Pyongyang once criticized US House Speaker Nancy Pelosi when she visited the DMZ in August.
On September 26, Pyongyang warned South Korea and the United States of the risk of starting a war, after the two allies conducted their first combined naval drills near the Korean peninsula in five years.
The US official said Harris' visit to the DMZ would "emphasize the US commitment to stand by (South Korea) in the face of any threat from North Korea".
Vice President Harris arrived in Japan on September 26 and met with Japanese Prime Minister Kishida Fumio ahead of Abe's national funeral.
Also in Tokyo on September 27, Korean Prime Minister Han Duck Soo held talks with Ms. Harris. The South Korean leader stressed that Vice President Harris' visit to the DMZ would demonstrate "the strong commitment (of the US) to security and peace on the Korean peninsula".
North Korea has conducted a series of weapons tests this year, including testing an intercontinental ballistic missile in March 2022, its first since 2017.
Officials in Washington and Seoul have repeatedly warned that North Korea is preparing to conduct a seventh nuclear test.
South Korean President Yoon Suk Yeol has vowed to intensify joint military exercises with the US, after his predecessor Moon Jae In's diplomatic efforts with North Korea failed to meet expectations.