Besides big brands like Highlands Coffee, Starbucks or The Coffee House, a few years ago, Aha Cafe's signs appeared on major streets in Hanoi. Pursuing the style of "sidewalk coffee", this drink chain often locates at a junction or crossroads – where many people pass by.
The founder of Aha is Mr. Nguyen Manh Ha, born in 1978. Mr. Ha is currently the Chairman of the Board of Directors and the legal representative of the company.
According to the National Business Registration Portal, Aha Coffee Joint Stock Company used to have 3 founding shareholders, Mr. Nguyen Manh Ha (65%); Ms. Nguyen Thi Thanh Huyen (25%) and Mr. Nguyen Hai Nam (10%). By September 2016, Mr. Ha raised the holding rate to 89%; Mr. Nam still holds 10% while Mrs. Huyen has transferred all of her shares.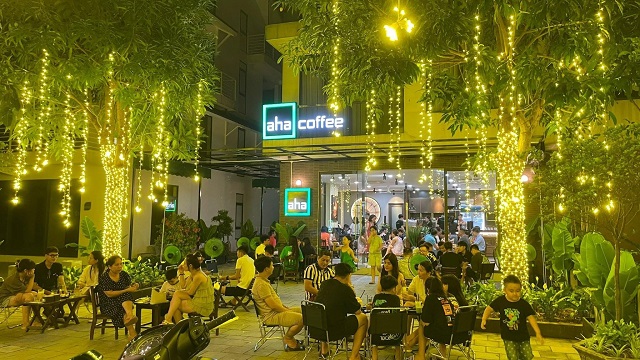 Aha's stores appear on many major streets. Photo: Aha Cafe
Shared in a 2017 interview with Young Intellectuals, Chairman Aha said he has a passion for coffee for a long time. Right in the first years of university, Mr. Ha bought coffee beans to roast, grind and then leave termites for shops to earn money to go to school. The production work gradually went into a methodical manner and in 1997, the Aha Cafe brand appeared on the product. In 2008, the first Aha Cafe store was opened in Hanoi.
"In those days, customers still drank mixed coffee. For example, with 1 kg of coffee, the shop owner added flavoring to sell about 60-70 cups while still ensuring the density and consistency. Everyone wants to make a profit. But I don't want to go in that direction. I want to develop clean coffee products and start thinking about opening a shop to facilitate my production and stabilize output." Ha said.
This businessman also revealed that he is more passionate about production than chain business. "But I want to increase output, I have to open more chains. As for my direction, what I am really passionate about is still producing coffee, tea and ice cream", Mr. Ha confided.
Initially, the founder developed his coffee chain in the direction of "slowly but surely", opening 1-2 more stores each year. However, with the explosion of the franchise model, the number of stores of Aha Cafe quickly expanded in the following years. In 2018, this chain had 21 stores, including 19 in Hanoi and 2 in Ho Chi Minh City. According to the general list of Hanoi TopList, by 2022, Aha has more than 100 branches across the country.
Kafa Café has many similarities with Aha Cafe. Photo: Kafa Café
In July 2018, Aha Cafe attracted the attention of the F&B world when a strategic investor who owned 6 stores stopped cooperating with the company. This investor then turned to invest in a new brand called Kafa Café – with the positioning as a Vietnamese-style street coffee chain.
Kafa is one of Aha's "serious" rivals when it also develops in the style of "sidewalk coffee". According to information on Kafa's website, this chain currently has nearly 60 stores in many provinces and cities across the country, of which Hanoi alone has 32 locations.
The Vietnamese tea and coffee chain business market has become increasingly competitive over the years. Due to the impact of Covid-19, some businesses had to pause their expansion plans, even close some stores, and cut staff to save costs. Even Highlands Coffee – one of the leading coffee chains in terms of scale and revenue in Vietnam, has been continuously involved in scandals related to rent debt in 2021.