Previously, Can Tho Branch (belonging to Vietlott) received the ticket from Mr. NQD. Through checking on the lottery business data system and accompanying documents, Vietlott determined that Mr. NQD had won the Jackpot 1 product. Power 6/55 product (779th draw, September 22, 2022) with a prize value of VND 98.67 billion. The lucky ticket was issued at sales point No. 14-16B Hoa Binh Boulevard, An Cu Ward, Ninh Kieu District, City. Can Tho.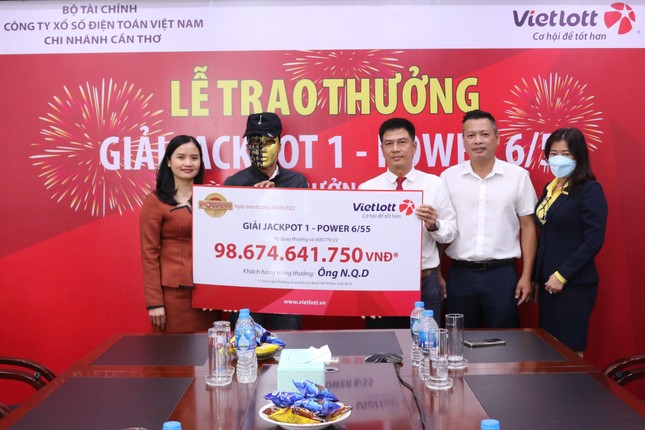 Vietlott Can Tho branch has just organized to award Jackpot 1 lottery product Power 6/55 worth more than 98.6 billion VND to Mr. NQD
Mr. NQD has a household registration in Soc Trang province, and does a freelance business in Can Tho City. He shared that he has known about Vietlott's elective lottery products for a long time and often participates in prizes. On September 22, as usual, he went to the point of sale to buy a ticket with 5 numbers.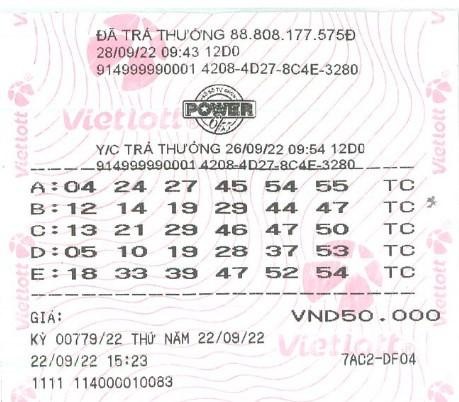 Jackpot winning ticket more than 98.6 billion
On September 24, when he passed a sales point, he stopped by to check and buy tickets. When he put the ticket into the ticket detector, many numbers appeared on the screen, making him very surprised when he became the owner of the Jackpot of more than 98.6 billion VND.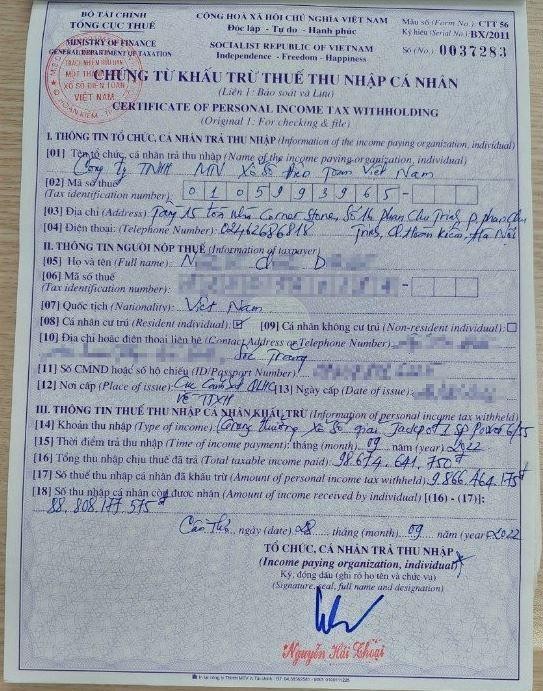 Mr. NQD's personal income tax payment invoice
According to the regulations of the Ministry of Finance, the owner of the winning ticket shall pay tax at the locality where the winning ticket is issued (the tax rate is 10% for the winning value in excess of 10 million VND). Thus, the individual income tax of the winner will be paid to the city budget. Can Tho is more than 9.8 billion VND.