Starting from the morning of August 1, 100% of expressways across the country have officially applied non-stop toll collection (ETC) for the whole route.
To operate smoothly, from December 23, 2020, two service providers, VETC and VDTC, have made an inter-connection between the two service providers, allowing all vehicles when registered. paste a card (VDTC's ePass or VETC's E-tag) and the fully-charged account will circulate normally through non-stop automatic toll collection stations nationwide.
To ensure benefits and improve customer experience during the deployment of 100% automatic toll collection on 8 expressways from August 1, 2022, VDTC and VETC always have direct support staff at the arrival station. on August 20 to register for the service, guide to recharge, handle after sale, change the name of the car owner, etc. to help customers circulate smoothly through the station.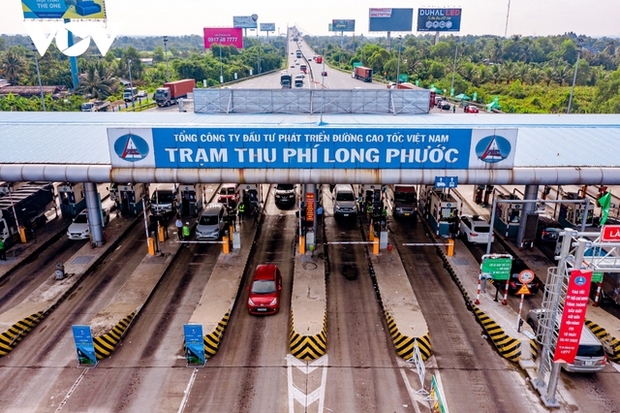 Some toll stations have errors when deploying toll collection without stopping
In the past few days, at the Noi Bai – Lao Cai expressway toll station at km6, a number of vehicles without ETC cards were serviced on the spot by the staff at the station. In case of insufficient money, the staff will guide you through the station and recharge your account to be eligible for circulation.
However, some vehicle owners said that there is still a situation where the vehicle has an ETC toll card, there is still money in the account, but when passing the station, it still receives an error message and this error does not occur at all stations. Some stations can pass, some stations can't.
"My car has an ePass card and a lot of money left, going through Hanoi – Hai Phong, Cau Gie – Ninh Binh toll stations; Bac Giang – Lang Son can pass normally, but when passing here (Noi Bai – Lao Cai expressway station) the station staff reported an error, unable to open the barrie", Mr. T., the owner of a vehicle in Hanoi, has pasted the reflected ePass card.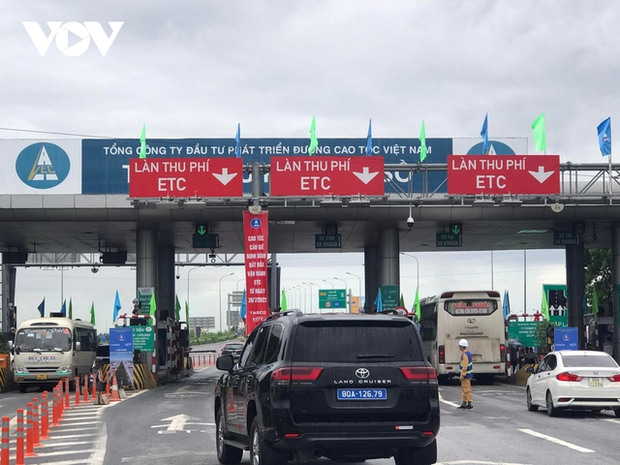 Automatic toll collection does not stop (ETC) even though the arrow hit many targets but "broken promises" for many years
Before the questions, feedback of the driver and after 2 days of non-stop toll collection, some errors were recorded. In which there are errors from both sides, the car owner and due to the toll collection system, Mr. Bui Trinh, General Director of Vietnam Digital Traffic Joint Stock Company (VDTC) said that the unit has supported many car owners in the past 2 days. At this toll booth area, it is mainly related to the lack of money in the account, new card stamping or card not recognized error.
Regarding the vehicle owner's complaint that he passed many other toll booths, but this toll station was faulty, Mr. Trinh said that it was definitely not the card's fault because the car could still pass through other stations.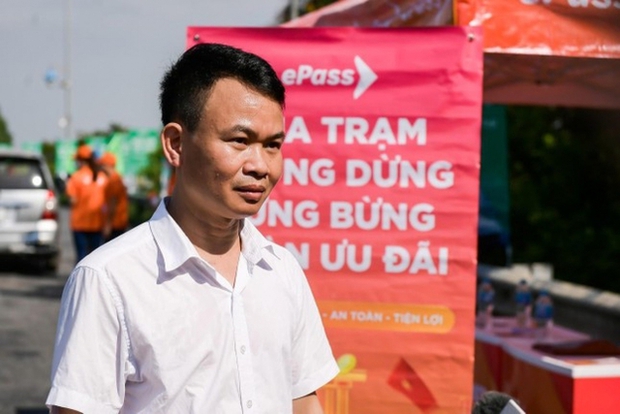 Mr. Bui Trinh, general director of VDTC, said that this morning, the unit has supported many car owners at this toll station area, mainly related to not having recharged the account, pasting a new card or having a card error. identified.
"There are many reasons such as insufficient capacity of the transmitter, the vehicle does not guarantee the distance, speed limit, antenna scanning angle, system parameter configuration and compliance with the operation monitoring process as usual. parameter monitoring and system calibration. In case of these errors, the staff will check the account balance, deduct money offline, then let the car pass and check the system or notify the ePass to check the card again.", said Mr. Trinh.
According to Mr. Trinh, the ePass service registration procedures and processes comply with state regulations to ensure the interests and confidentiality of customers' information.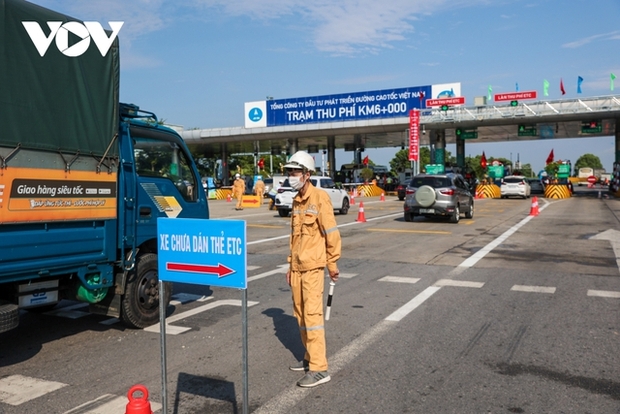 Support to regulate vehicles through toll stations
"At the operating VDTC stations, automatic monitoring and post-checking tools have been applied to 90% to ensure the time to handle wrong orders when customers pass through the station and transfer money to the BOT before 15:00 every day in accordance with regulations. in the service contract.
VDTC has applied a technical management system to ensure 4 KPIs of the General Department of Roads of Vietnam (KPI for card reading is 99.8/98% and number plate recognition is 99.3/91% higher than the requirement of DRVN)", Mr. Trinh said.
The VDTC leader said that there are currently 8 recharge channels: Momo, ViettelPay, Bankplus, VNPay, domestic cards, international cards, Mobile Banking (all banks can top up), cash channels at the help station. for vehicle owners to easily recharge to use the service.
In addition, vehicle owners can link Viettelpay, Viettel Money applications with traffic accounts, so there is no need to ensure the balance in traffic accounts and normal consumption on other things similar to e-wallets. , bank account number.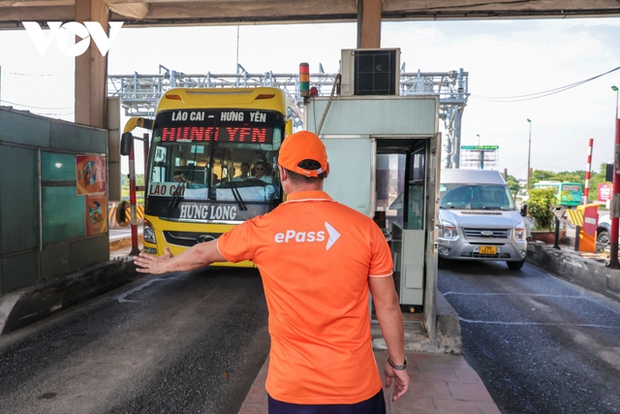 Support for vehicles to pass the station in the first days of toll collection without stopping
"ePass employees stick chip cards on standard locations, with layers of protection from objective factors such as weather. Thereby making it easier for drivers to pass through toll booths. Vehicle speed through the station is 3 times faster than KPI due to ePass application of OCS real-time charging technology from mobile information network", said Mr. Trinh.
Is there any appropriation of the driver's money?
Many car owners are frustrated when they top up VETC's E-tag account, they will be charged a service fee at a percentage of the amount deposited.
When asked why VETC did not work with partners to have a way to handle this issue, the VETC representative said:This is due to the policy of the connection partner, there are some services they charge a bit high. Currently, the Ministry of Transport is also proposing to work again with connection channels to create favorable conditions for drivers to recharge their toll accounts without stopping.".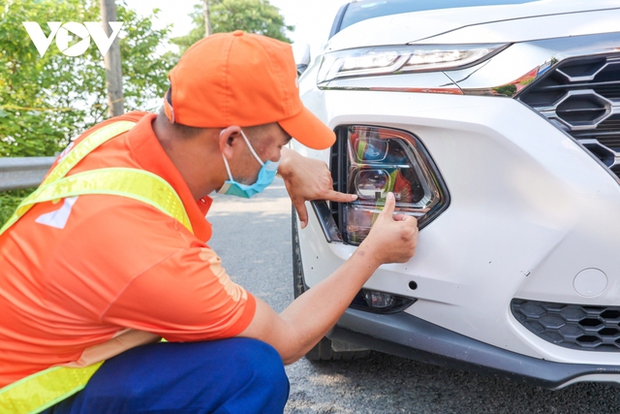 Paste ETC card for vehicles without ETC automatic toll sticker
According to him, the intermediary channels that are charging 1% fee when depositing money into the account, including Vnpay, Momo, VNPay and VNPTepay, all charge this fee. Many drivers are angry for a reason, but because automatic toll collection does not stop, there are many stakeholders involved.
Of course, there are still inadequacies such as spending thousands of dollars, everyone is inhibited. Currently, if the payment intermediary has not reduced them, VETC must also accept it during this period. Thereby, VETC recommends that drivers temporarily use top-up methods from banking so as not to lose fees.
When asked about whether the driver was misappropriated money when traveling only a part of the road but had to recharge for the whole route and had to have a balance of at least 50%?, the VETC representative affirmed: "The unit does not have such regulations. ".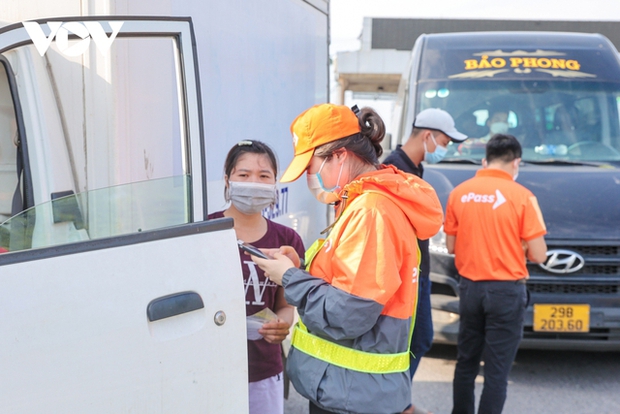 VDTC has applied a technical management system to ensure 4 KPIs of VSD (KPI of card reading reaches 99.8/98% and recognition of license plate 99.3/91% higher than the requirement of SSC)
The collection of money for the entire route and must have a balance of at least 50% is implemented by the project investor Vietnam Expressway Development Investment Corporation (VEC) according to regulations on expressways managed by VEC. .
It is known that on July 29, 2022, VEC has sent a document to Vietnam Digital Traffic Joint Stock Company (VDTC) and VETC Limited Liability Company (VETC), Tasco Company about the maximum balance limit. The minimum in the automatic toll collection account does not stop ETC when entering expressways managed by VEC.
VEC stipulates for vehicles entering the highways Noi Bai – Lao Cai, Cau Gie – Ninh Binh, Da Nang – Quang Ngai and Ho Chi Minh City – Long Thanh – Dau Giay to use the automatic toll collection service. non-stop with a minimum balance in the account of 50% of the longest fare of class 1 vehicles of each expressway.
The reason according to VEC is to let the driver get used to the condition that there is always money in the account and avoid forgetting…/.
Generated more than 83,000 toll errors without stopping ETC
The Directorate for Roads of Vietnam said that in the first week of implementation, all 10 highways nationwide stopped manual toll collection, only automatic toll collection did not stop (ETC), the system recorded more than 83,000 tolls. error…
In which, the expressway Ho Chi Minh City – Long Thanh – Dau Giay has more than 37,500 errors; The Da Nang – Quang Ngai highway has nearly 1,800 errors, the Noi Bai – Lao Cai highway has more than 6,200 errors, the Cau Gie – Ninh Binh highway has more than 33,600 errors… In general, the rate of faulty transactions accounts for about 20% of the total transaction number.
Statistics of the General Department of Roads of Vietnam also show that the errors with the highest percentage are insufficient money in traffic accounts, accounting for more than 80%; followed by invalid account errors, card not activated…
To ensure the stable operation of the ETC system and facilitate vehicle owners' circulation through the toll booth, the Directorate for Roads of Vietnam has requested toll collection service providers: automatic VETC (VETC); Vietnam Digital Traffic Joint Stock Company (VDTC) urgently corrects to prevent the phenomenon of "virtual" card activation in the near future;
Actively review and contact vehicle owners to add additional cards or cancel accounts if vehicle owners do not agree to use the service.
For vehicle owners who have been pasting cards for a long time, cases of card identification problems are often checked and handled in a timely manner to ensure smooth circulation of vehicles through toll booths.
Support vehicle owners to paste terminal tags, especially vehicle owners wishing to enter the highway.