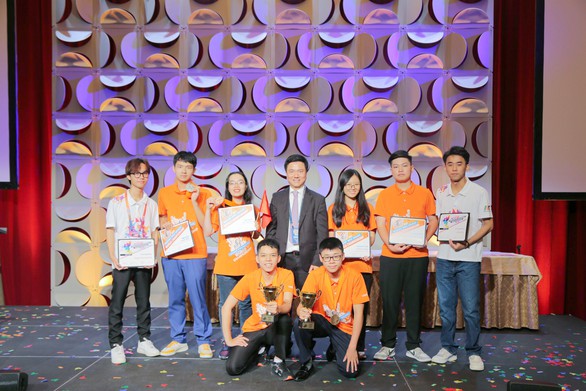 The Vietnamese delegation participated in the final of the World Office Informatics Championship – Photo: MOSWC
Four outstanding faces brought glorious achievements to Vietnam at the world's largest computing playground, including: Bui Cong Minh (Nguyen Tat Thanh Middle and High School, Hanoi) won the world gold medal in Powerpoint 2016; Nguyen Duy Phong (Hanoi University of Science and Technology) won the world gold medal in Microsoft Excel 365 Apps and Office 2019; Nguyen Trong Khai (Hanoi University of Science and Technology) won the world silver medal in Microsoft Word 365 Apps and Office 2019 and Dao Ngoc Tung Chi (Foreign Trade University) won the world bronze medal in Microsoft Word 2016 .
Unable to hide the feeling of being named at the top podium at the award ceremony, contestant Bui Cong Minh shared the feeling of "exploding", being both happy, happy and trembling. Cong Minh is also the youngest contestant in the history of the seasons when the Vietnamese delegation won the highest place in the world finals.
Contestant Nguyen Duy Phong also excitedly shared that he was really happy because he had conquered the highest position and brought glory to the country.
Mr. Doan Hong Nam – President of IIG Vietnam Education Organization, Head of National Organizing Committee, Head of Vietnam Delegation – said:With the above results, Vietnam is the team that has won the most medals overall among the participating countries World Office Informatics Championship this year.
This is also the first time in the history of 13 years of participating in the competition at the world's largest computer arena, the Vietnamese team rose to the top 1 position, scoring twice with 2 gold medals in 2 competitions and winning the first place in the competition. 4 medals in total.
Competition World Office Informatics Champion (MOS World Championship) is an international playground for students aged from 13 to 22 with a global scale to seek and honor the world's best IT talents in terms of using skills. office computer applications.
The gold table of achievements of the Vietnamese team at the MOSWC World Finals so far includes 4 gold medals, 3 silver medals and 10 bronze medals.