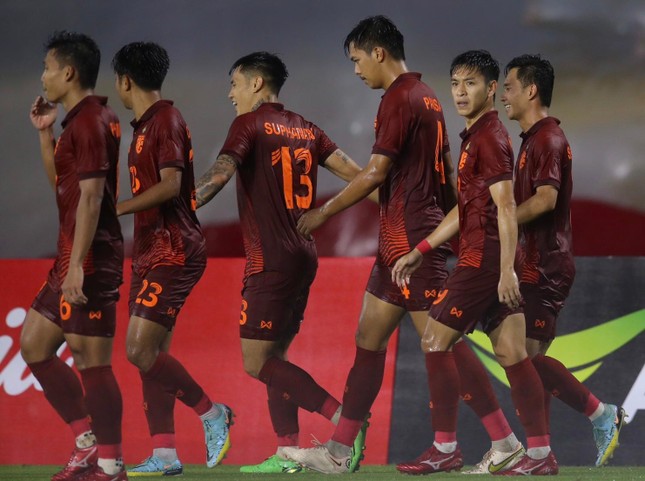 After the defeat against Malaysia and receiving an attack from the public, to boost the morale of the players, "Madam Pang" Nuanphan Lamsam, manager of the Thai national team, promised a reward of 2 million baht (about 1.2 billion VND). if we beat Trinidad & Tobago. As Thairath commented, the third place match is very meaningful. In addition to regaining the trust of fans, it also "affects the ranking on the FIFA rankings".
The goals of Channarong Promsrikaew and Supachok Sarachat helped Thailand overcome Trinidad & Tobago, finish the King's Cup 2022 with 3rd place, and pocket a big bonus from Madam Pang.
According to Thairath's calculation, the Thai team also has an additional 5.32 points based on the FIFA scoring formula (match results, number of goals, ranking of two teams, tournament, score of the continental federation). This means that when FIFA updates the rankings on October 6, Thailand will stand at 113, 2 places lower than before the King's Cup 2022 (111).
Why is this strange? First, Thailand lost 6.07 points after the match against Malaysia, the team ranked 37 places lower than them. After the match against Trinidad & Tobago, Thailand's provisional score is 1,169.94, less than North Korea. Secondly, at the same time, Kazakhstan in 114th place has made a great progress when defeating strong opponent Belarus (96th) in the UEFA Nations League 2022/23 to get an additional 8.36 points. Losing 0-3 to Azerbaijan (128th) on Sunday night also did not make Kazakhstan's total score lower than Thailand.
Ranking on the FIFA rankings is very important when entering the 2026 World Cup qualifiers. As you know, the second qualifying round in Asia has 36 teams divided into 9 groups. Seed classification at the draw will be based on the FIFA rankings. For example, Vietnam is 97th in the world, 17th in Asia (possibly improving its ranking if it beats India in the International Friendly Cup) will be in group 2, while Thailand is 113th in the world, 22 in Asia are in group 2. 3, leading to a high probability of falling into the difficult board.
Before the 2026 World Cup qualifiers start, the FIFA rankings are also the basis for the draw for the group stage of the 2023 Asian Cup. Currently, Vietnam is in group 2 and Thailand in group 4.