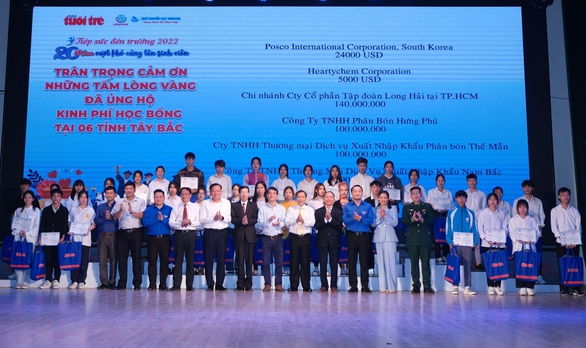 Scholarship awarding ceremony for 83 new students in the Northwest region – Photo: NAM TRAN
Appearing at the ceremony, Vi Thi Minh Tuyet (Hanoi Medical College) made many people admire when she brought strong strength in a small body. Tuyet has struggled with Thalassemia (also known as hemolytic disease) since childhood. "On the day of the appointment for a blood transfusion, what I'm afraid of is not only pain or needles, but most afraid of my parents having to work hard to earn money, the distance is quite long, each time it costs a lot of money" – Snow shed tears.
Understanding the illness, Tuyet hopes that after finishing her studies, she can open a drugstore, not only selling drugs but also "sending love" to those in the same situation as you. You can't hide your joy with the scholarship money received by you and your family, which is a huge amount of money to share the burden of tuition and medical expenses. "The first thing will be to use the money to buy a prescription for this month, the rest I will send to my parents" – Tuyet said.
From the mountains and forests of the Northwest, ethnic children are used to poverty, hunger and deprivation, but it is their desire to learn, to become engineers, doctors, scientists, and teachers. . has helped you full of energy and confidence to enter the university gate.
"It is the desire with the overcoming stories of the new students told by thousands of letters across the country that has prompted many meaningful and humane activities to join hands to support the new students to enter the threshold. That aspiration always heats up Tuoi Tre newspaper after each enrollment period, helping us to act as a bridge between readers and friends," said Tuoi Tre newspaper deputy editor-in-chief Nguyen Hoang Nguyen. at the award ceremony.
Recalling the saying of the late Prime Minister Vo Van Kiet "No one chooses a door to be born!", Mr. Vu Duy Hai – Chairman of the Board of Directors, General Director of Vinacam Group Joint Stock Company – shared despite being born in the same circumstances. not as favorable as many other friends, but with the desire to rise up, the new students have successfully entered the university gate.
"In the new environment, you must not only try to overcome difficulties, you must stay away from the temptation to focus on your studies and learn soft skills by participating in school and classroom activities to learn how to organize, prepare arrange for his life "- Mr. Hai reminded.
The Northwest region is the fifth awarding point of the "Relay to school" scholarship in 2022. The total funding of 1.2 billion VND scholarships for this area is funded by the Vinacam Study Promotion Fund (Vinacam Group Joint Stock Company) support, worth 15 million VND each.
Nestlé Vietnam Co., Ltd. sponsored gifts for new students, Vinacam Study Promotion Fund also donated four laptops to new students who are especially difficult to lack learning equipment in this area. At the ceremony, close readers of Tuoi Tre newspaper supported five sets of computers for difficult new students of Son La province.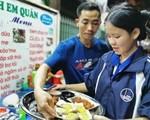 Hungry and full meal go to the lecture hall