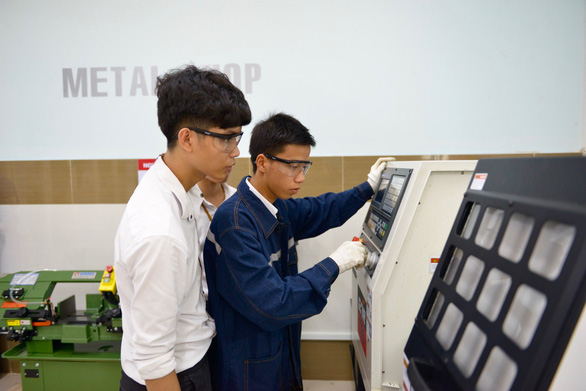 Students practice at a university in Can Tho – Photo: USAID
Post-secondary programs are "decreasing value"?
After taking into account differences in study length between countries, the research team found that Vietnam's average number of years of schooling was 10.2 years, second only to Singapore in ASEAN.
However, Vietnam's post-secondary enrollment rate in 2019 was only 28.6%, lower than that of other countries in the region. Meanwhile, in upper middle-income countries, the post-secondary enrollment rate averages 55.1%.
According to World Bank experts, this shows that out of about 6.9 million people of age going to post-secondary programs, just over 2 million are enrolled.
The report also indicates return on education and skills – the index measured by the change in hourly wages of workers with post-secondary education compared with groups with less than primary education – falling from 70% in 2010 to 50% in 2020.
According to a human resource expert in Ho Chi Minh City, the decrease in the above return shows that in Vietnam, the typical benefits in terms of wages between a worker with a university degree and those with a high school degree, Secondary school… is tending to narrow.
"It is understandable that the labor market has more and more jobs for university graduates, but those who only graduate from high school can also do it. That is, in general terms, post-secondary education is less which is losing the 'additional value' for learners," he said.
World Bank experts believe that this trend is partly due to the low skill match of graduates in the labor market. Currently, Vietnam ranks 3rd from the bottom out of 140 countries assessed in the "Competitive Index 2018" in terms of the skill match of graduates.
The reason may be that the economy has not yet created enough high-skill jobs, so some good students with high skills have to take jobs with lower skills and lower wages.
The skills of many graduates have not yet matched the market demand. Enterprises reported that they had difficulty in finding workers with leadership and management skills (73%) or professional and technical skills (68%).
4 things to convert soon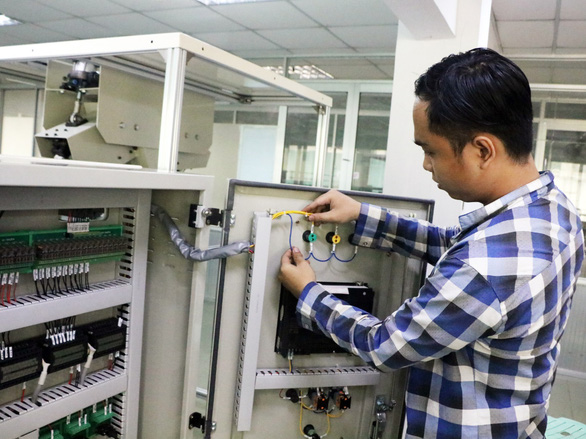 Student interns at a university in Ho Chi Minh City – Photo: NGUYEN
World Bank experts assessed the lack of funding from the state budget, combined with weak and fragmented post-secondary education governance institutions as factors affecting the quality of higher education as well as higher education. to the speed of capacity development of innovation and technology transfer.
Specifically, Vietnam spends less than other countries in the region on higher education. In 2019, higher education in Vietnam as well as vocational colleges were allocated 0.6% of GDP, compared with 0.86% in Malaysia and 0.9% in South Korea.
The research team behind the World Bank report said that there are four key transition points through which innovation can have significant consequences for higher education.
The first is to improve access and equity. Assuming Vietnam's post-secondary enrollment rate target by 2030 is 45%, the additional enrollment target is estimated to be 1.3 million to reach a total of 3.8 million students.
To be able to scale like that, there is a need to ensure that private and non-university educational institutions play a larger role than today. More diverse training models, including online learning and digital technology application; increase enrollment sources right from the secondary education level; and financial aid for students.
The second is to improve quality and suitability. To improve quality, the focus should be on innovating teaching and learning methods, well-managing talented teaching and research staff, and investing in educational infrastructure, information and communication technology.
Meanwhile, to improve the relevance of higher education programs, there is also a need to build closer links between higher education institutions and businesses.
Students take part in the 2021 high school graduation exam in Ho Chi Minh City – Photo: TRANG NHAN
The third is to improve financial security for the higher education sector. Experts say that higher education needs to move towards sustainable finance through better allocation of state capital and more efficient use of private sector capital.
The immediate priority is to ensure that existing resources are used efficiently. Gradually, the State's capital for post-secondary education needs to be increased, especially as the demand for higher education continues to increase. However, since the State provides about 80% of post-secondary education programs, the role of private post-secondary institutions still needs to be further enhanced.
Finally, the report argues that governance needs to be improved in the higher education sector. The government should consider restructuring the management structure of the higher education sector to facilitate development and improve quality.
The need is to define a vision and strategy for higher education, revise the industry structure and regulatory framework, and combine it with quality assurance measures to create favorable conditions for universities to operate. move towards autonomy and accountability within a more effective governance structure.
Experts affirmed that a single ministry should be assigned to take charge of state management of universities, technical and vocational schools, research and technology.
Authorities should actively monitor the progress and outcomes of this reform program through a modern information management system.