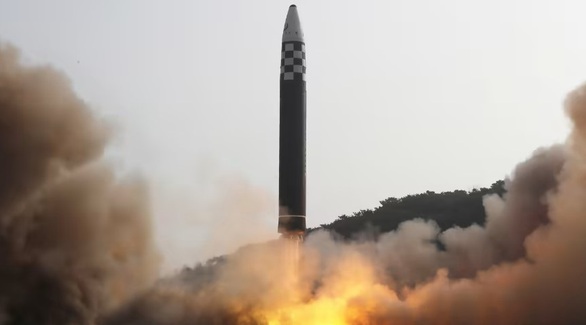 North Korea once announced the launch of a new type of intercontinental ballistic missile in March 2022 – Photo: KCNA
* North Korea fires ballistic missiles. South Korea's Joint Chiefs of Staff said North Korea fired an unidentified ballistic missile into the sea east of the country on the morning of October 1. This is Pyongyang's fourth missile launch this week.
The launch came after the US and South Korea held joint military exercises, and after US Vice President Kamala Harris's visit to South Korea this week, according to Reuters news agency.
* Burkina Faso's second coup in eight months. In a statement filmed on national television on September 30, Captain Ibrahim Traore said he had ousted military leader Paul-Henri Damiba and dissolved the government in a second coup in eight days. month in this West African country.
Mr. Traore said the group of officers who helped Mr. Damiba take power in January 2022 had decided to remove their leader due to their inability to deal with the increasingly serious insurgency by radical Islamists. according to Reuters news agency.
* The billboard on the Chilean football stadium collapsed. Many people were injured after part of a billboard on the Estadio Monumental stadium in Santiago collapsed during a Colo Colo training session on September 30. According to Reuters news agency, hundreds of fans were standing in the stands when the accident happened.
Colo Colo did not specify how many people were injured, but said they would remove all damaged and collapsed items to avoid unfortunate accidents in the future.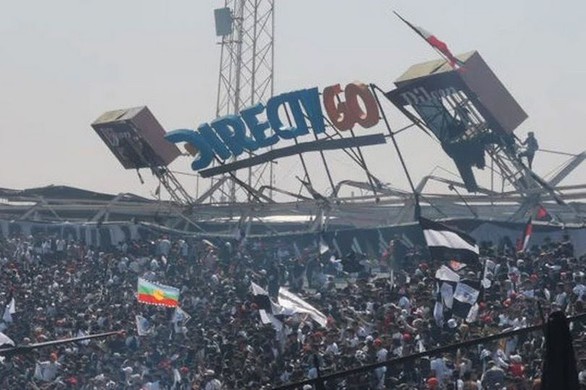 The billboard on the Estadio Monumental stadium in Chile collapsed on September 30 – Photo: TWITTER
* Russia vetoed a resolution condemning its annexation of Ukrainian territory. On September 30, Russia vetoed a United Nations Security Council resolution drafted by the United States and Albania condemning Moscow's annexation of the four regions of Donetsk, Lugansk, Kherson and Zaporizhzhia from Ukraine.
US Ambassador to the United Nations Linda Thomas-Greenfield called on member states not to recognize any altered status of Ukraine and force Russia to withdraw its troops, according to Reuters news agency. Ten member states voted in favor while China, Gabon, India and Brazil abstained.
Russian Ambassador to the UN Vassily Nebenzia argued that the aforementioned regions had chosen to become part of Russia. Kiev and the West have denounced the referendums on Russia's annexation as fake.
* Putin signed a decree to enlist in the army in the fall. Russian President Vladimir Putin has signed a decree regulating the autumn enlistment campaign as usual, summoning 120,000 citizens to join the army according to the law, according to Tass News Agency on September 30.
Tass quoted a statement from the Russian Defense Ministry as saying that the autumn enlistment decree "has nothing to do with the special military operation" in Ukraine. All men aged 18-27 in Russia are required to do one-year military service.
* 800 million m3 Gas leaks from the Nord Stream pipeline. Gazprom (Russia) said that 800 million cubic meters of natural gas leaked out after underwater explosions at the Nord Stream 1 and Nord Stream 2 gas pipelines in the Baltic Sea, according to Tass news agency. .
On September 30, Gazprom spokesman Sergei Kupriyanov said that the amount of gas released was equivalent to three months of supply to Denmark.
* Norway will patrol oil and gas rigs. On September 30, Norwegian Prime Minister Jonas Gahr Stoere said that the country would receive help from Britain, Germany and France in patrolling the waters around the country's oil and gas rigs.
The move comes after the Nord Stream pipeline explosion in the Baltic Sea caused gas leaks, according to Reuters news agency. Norway is Europe's largest gas supplier and a major oil exporter.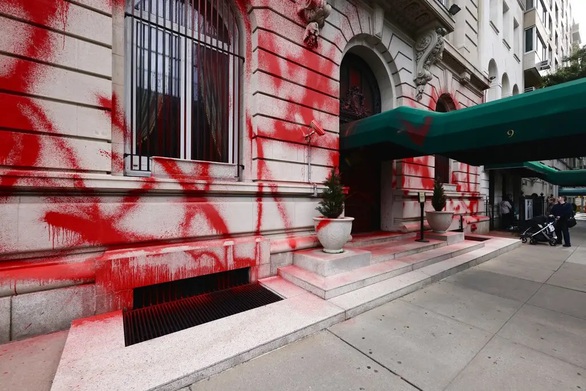 The Russian Consulate General in New York City, USA was painted red on September 30 – Photo: NEW YORK TIMES
* The Russian Consulate in New York was vandalized. The exterior of the Russian Consulate General in the Manhattan district of New York City (USA) was vandalized with red paint on September 30. The motive for the vandalism is unknown at this time, according to the newspaper New York Times.
The incident occurred after Putin announced the annexation of four regions of Donetsk, Lugansk, Kherson and Zaporizhzhia (accounting for more than 15% of Ukraine's territory).
* The United States imposed wide-ranging sanctions on Russia for announcing the annexation of four Ukrainian territories. On September 30, Washington announced sanctions against hundreds of people and companies, including people in Russia's military-industrial complex and lawmakers.
Guidelines from the US Treasury and Commerce Departments warn anyone outside Russia, including companies, that provides political, economic or material support to Moscow faces a high risk of sanctions. , according to Reuters news agency.
The US Treasury Department sanctions generally freeze any US assets of those on the sanctions list and ban Americans from doing business with them. The ministry also sanctioned 14 people in Russia's military-industrial complex, two central bankers, family members of high-ranking Russian officials and 278 members of the Russian legislature "for creating favorable conditions." sue Russia to conduct a fake referendum".
The Ministry of Commerce added 57 organizations in Russia and Crimea to the list of export bans.
The Russian Embassy in Washington has not commented on the move.
* NATO says Russia will not stop the alliance backing Kiev. On September 30, NATO Secretary General Jens Stoltenberg accused Russian President Vladimir Putin of inciting the "most serious escalation" of the war in Ukraine since the start of the military operation. the event on February 24
However, Stoltenberg stressed that Putin would not succeed in stopping the military alliance from supporting Ukraine, according to Reuters news agency. NATO Secretary-General also said that Russia's move was "the largest attempt to annex European territory by force since World War II".
* Mr. Biden said Mr. Putin was having a hard time. On September 30, US President Joe Biden said that Russian President Vladimir Putin's annexation of four Ukrainian territories was a sign that he was in trouble, and warned Russia that the US would protect "every inch". territory of the North Atlantic Treaty Organization (NATO).
Biden said the US and its allies will not be intimidated by Russia, according to Reuters news agency.
Meanwhile, US Secretary of State Antony Blinken said Washington has not seen Moscow take any action that it is considering using nuclear weapons in military operations in Ukraine.
Russia possesses the world's largest nuclear arsenal, including a new generation of hypersonic weapons, and 10 times more tactical nuclear weapons than the West.
In addition, the United States will announce a new security aid package for Ukraine next week, according to White House national security adviser Jake Sullivan.
* Mr. Zelensky said the army made significant progress in the east. On September 30, Ukrainian President Volodymyr Zelensky said the country's military had achieved "significant results in the east and mentioned Lyman, a stronghold that pro-Russian forces are struggling to keep control of. .
Earlier, Ukraine's Defense Ministry said the army had regained control of the village of Drobysheve, about 10km northwest of Lyman, in the eastern region of Donetsk, according to Reuters news agency.
Fuel storage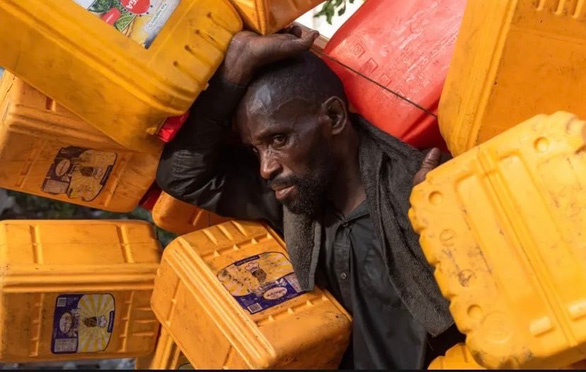 A man carries many containers to store fuel in the Haitian capital Port-au-Prince on September 29, after public transport unions called for a three-day strike to protest against rising fuel prices. tall – Photo: EPA