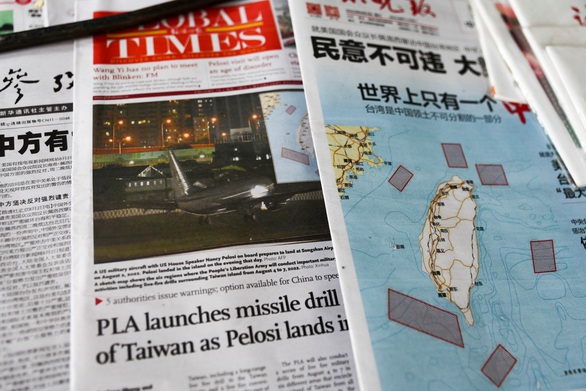 Chinese newspapers are displayed for sale at a stall in Beijing on August 3. The image shows the positions China announced the exercise from August 4 – Photo: REUTERS
* China started mass exercises from today. From August 4 to August 7, the Chinese military will conduct "important military exercises and training activities", including live-fire firing, in total, Xinhua news agency said. 6 areas around the island of Taiwan.
According to Bloomberg News, some of the areas where the above-mentioned exercises were announced overlapped with the territorial waters of the island of Taiwan, in some places just 20 km from the coast of Taiwan. The foreign ministers of the G7 group of developed countries issued a statement calling on Beijing to resolve the situation in a peaceful way.
* Tasting candy with salary of nearly 2 billion VND per year. Candy Funhouse's announcement to find people in Canada has won over spending money on advertising. According to the request to find the position of "executive director" of Candy Funhouse, in order to receive a salary of 100,000 Canadian dollars (more than 1.8 billion VND) per year, the candidate must ensure the ability to taste 3,500 products every month. candy, which is more than 100 products per day.
According to AFP news agency, in just two weeks, more than 100,000 job applications have been submitted, even though the requirements are only citizens living in North America and 5 years of age or older.
* Taliban leaders in Afghanistan hold closed-door meeting after the US killing of Al-Qaeda leader. Reuters news agency, citing three sources familiar with the matter, said that Taliban leaders held a closed meeting on August 3 to discuss how to respond to the US use of drones to fire missiles to kill the leader of the Al-Qaeda terrorist organization. Ayman Al-Zawahiri.
Al-Zawahiri's death has not been confirmed by the Taliban yet, but the incident happened right in a luxury residential area in the Afghan capital, Kabul, so it was like a slap in the face of the Taliban government. According to the sources, Taliban leaders are discussing whether they should respond to the US attack, and if so, what is the most appropriate way.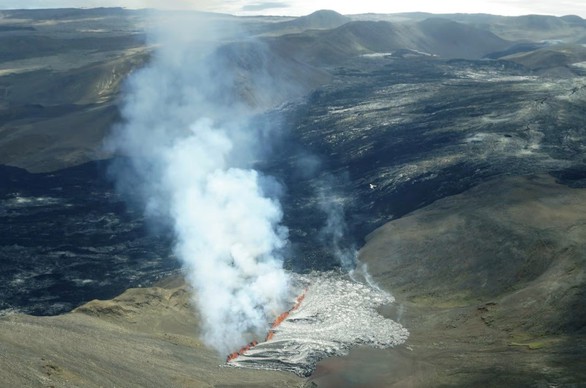 Aerial photos show the active volcano Fagradalsfjail in Iceland on August 3 – Photo: AP
* Volcano erupts near Iceland's capital. On August 3, the Icelandic Meteorological Office (IMO) announced that a volcano had erupted near the capital Reykjavik after days of increasing earthquakes in the area.
Live images and video broadcast by local news agencies MBL and RUV showed lava and smoke spewing from a fissure in the ground on the slopes of Fagradalsfjail, the site of a six-month eruption last year. .
* President of the United States signed a second executive order protecting abortion rights. On August 3, President Joe Biden signed an executive order asking the federal health agency to consider allowing the use of Medicaid funds to facilitate leaving the state for people who want to have an abortion.
He also said that the Supreme Court and the Republican Party know nothing about the power of American women, according to Reuters news agency. Biden's move comes just a day after Kansas voters voted down a constitutional amendment that would allow state lawmakers to ban abortion.
* The US and Iran resumed indirect negotiations on the nuclear deal. On August 3, the United States and Iran announced that top officials of the two countries would resume talks in Vienna (Austria) this week on restoring the 2015 nuclear deal.
Iran's chief negotiator, Ali Bagheri Kani, urged Washington to "show maturity and act responsibly" before he arrived in Vienna, according to Reuters news agency.
The US special envoy for Iran, Rob Malley, said he was preparing to fly to Vienna but said he did not expect major progress.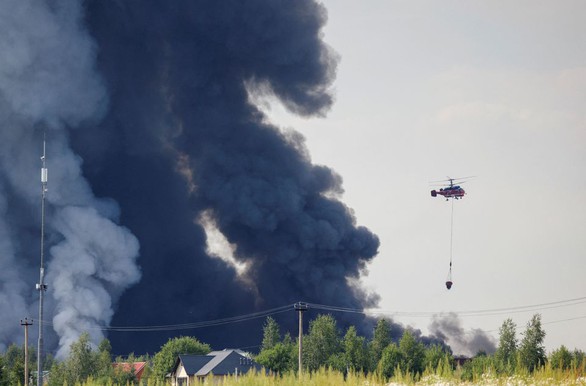 Black smoke rises at the Ozon warehouse fire in Moscow, Russia on August 3 – Photo: REUTERS
* Large fire at warehouse in Russia, many casualties. At least one person was killed and 13 injured when a large fire broke out at a warehouse, owned by e-commerce company Ozon, in the northwest, RIA news agency (Russia) quoted an informed source as saying. Moscow's capital
Dozens of firefighters fought to put out the fire using helicopters and 100 tons of water. RIA said authorities were investigating whether arson was the cause of the fire.
* OPEC+ increases the "rate" of 100,000 barrels of oil per day. According to information from the ASEAN Foreign Ministers' Meeting, the Organization of the Petroleum Exporting Countries and its partners (OPEC+) decided to increase oil production to 100,000 barrels per day.
This increase is equivalent to 0.1% of global demand, according to Reuters news agency on August 3. Analysts said the OPEC + "rate" increase was an insult to US President Joe Biden's visit to Saudi Arabia to ask the group's leader to pump more oil to help the US and the global economy.
* US stocks surge while Treasury yields hit a two-week high at the close of trading on Aug. 3, according to Reuters news agency.
Economic data showed an unexpected acceleration of service sector activity, and a strong increase in factory orders as well, suggesting the economy is healthy enough to withstand hawkish monetary policy from the Federal Reserve. US state.
The Dow Jones Industrial Average rose 416.33 points, or 1.29%, to 32,812.5 points. The S&P 500 added 63.98 points, or 1.56%, to 4,155.17 and the Nasdaq Composite added 319.4 points, or 2.59%, to 12,668.16.
Shares in Europe ended the session higher as well. The STOXX European Stocks Index gained 0.51% while the MSCI Global Equity Index gained 1.01%. Japan's Nikkei index rose 0.53%.
The price of US crude oil CLcv1 fell 3.98% to $90.66/barrel, while the price of Brent oil fell 3.74% to $96.78/barrel.
Gold prices rose 0.3 percent to $1,765.06 an ounce.
* Ukraine sets conditions for peace talks with Russia. On August 3, Ukraine rejected a comment by former German Chancellor Gerhard Schroeder that Moscow wanted a "negotiated solution" to the war in Ukraine. At the same time, Kiev said any dialogue would have to start after Russia ceased fire and its troops withdrew, according to Reuters news agency.
Mykhailo Podolyak, an adviser to Ukraine's president, described Mr Schroeder as "the voice of Russia", and made clear the grain deal would not lead to peace talks between the two countries.
Meanwhile, Ukraine's Foreign Minister Dmytro Kuleba is skeptical about Russia's willingness to negotiate peace. "We hear and see this 'readiness' every day: shelling, rockets threatening civilians, atrocities. Russia remains focused on the war, everything else is just a blinding flash of fire. ", said Mr. Kuleba.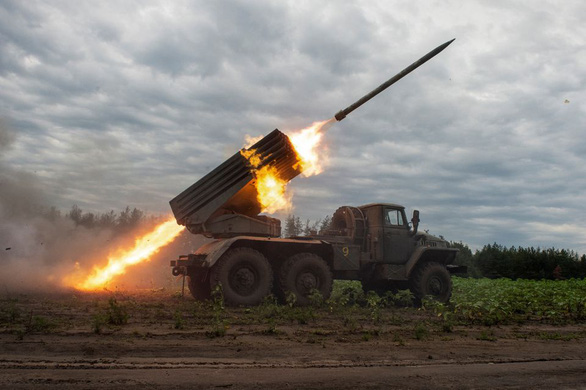 Ukrainian soldiers fire the BM21 Grad multiple launch rocket system at the frontline in the Kharkov region on August 2 – Photo: REUTERS
* UN launches mission to "find the truth" about prison bombings in Ukraine. On August 3, UN Secretary-General Antonio Guterres announced he would launch a fact-finding mission to uncover the "truth" about the prison attack in the front-line town of Olenivka controlled by pro-Russian separatists. in eastern Ukraine.
Guterres said Russia and Ukraine both demanded an investigation into the prison attack that killed more than 50 people, according to AFP news agency. Moscow and Kiev blamed each other for the attack.
* Ukraine withdraws peacekeepers from Kosovo. Ukraine has begun withdrawing its peacekeepers from the NATO-led mission in Kosovo, according to the RBK-Ukraine news portal on August 3.
Ukraine currently maintains a group of 40 peacekeepers in Kosovo, but President Volodymyr Zelensky has ordered the withdrawal of all peacekeeping missions to the country to help the country fight the war with Russia.
* Mr. Biden remains positive for COVID-19. The White House announced that US President Joe Biden was still positive for COVID-19 on August 3. Biden is still feeling well, with no fever and occasional cough, but less than in previous days, according to Reuters news agency.
Mr. Biden first tested positive for COVID-19 on July 21. He reappeared on July 27 after a period of isolation but tested positive again on July 30.
Seasonal joy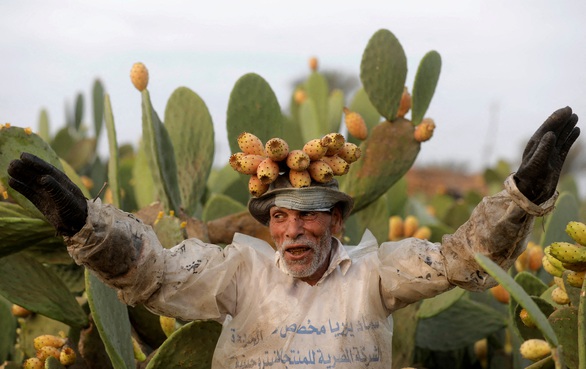 This farmer is singing happily while wearing a prickly pear cactus on his head on a farm in Qalyubia province (Egypt). According to the farmers here, they are happy that the output of this fruit is still increasing despite little watering and the tree is able to withstand extreme heat – Photo: REUTERS