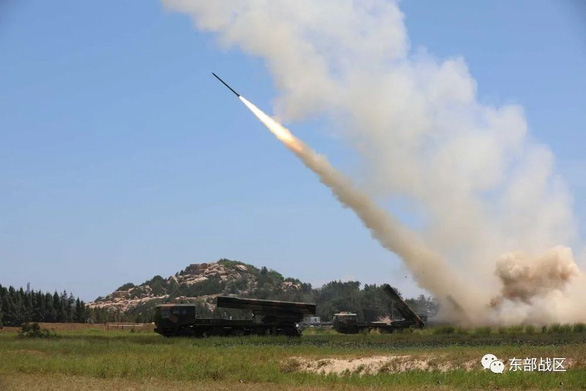 China released images of rocket launches from an unknown location on August 4 – Photo: REUTERS
* China says the US should correct its mistake about Taiwan. After Chinese Ambassador Qin Gang was summoned by Washington, the Chinese embassy accused the US of being the troublemaker of peace and stability in the Taiwan Strait and the region.
"The only way out of this crisis is for the US side to take immediate measures to correct mistakes and reduce serious impacts from the visit of (US House of Representatives Speaker) Pelosi," said Jing Quan, an official of the US House of Representatives. Officials of the Chinese embassy, ​​talked about Nancy Pelosi's recent visit to Taiwan, and warned Washington to avoid "pushing US-China relations down a dangerous path of conflict and confrontation".
Responding shortly after, the White House said the US had nothing to fix related to Ms. Pelosi's visit, asserting that Washington's allies in the region shared the same concerns about China's move towards Taiwan. Loan.
* Russia arrests top expert on hypersonic weapons. On August 5, TASS news agency reported that Russia had arrested Andrei Shiplyuk – the country's leading expert on hypersonic weapons, on suspicion of treason.
Shiplyuk heads the hypersonic weapons laboratory at the Novosibirsk Institute of Theoretical and Applied Mechanics. In recent years, he has coordinated research to support the development of hypersonic missile systems. TASS quoted one of Shiplyuk's colleagues as saying that Russian functional forces had conducted searches at the institute.
Hypersonic weapons can fly at 9 times the speed of sound. On June 1, Admiral Alexander Moiseyev, commander of Russia's Northern Fleet, said that Russia has completed the testing of the Zircon hypersonic cruise missile and will deploy this modern missile before the end of this year on a military base. new destroyer of the fleet. Russian President Vladimir Putin described Zircon as part of a new generation of "invincible" weapons systems.
* Taiwan insists it has enough capacity to protect people's safety. Taiwan's leader Tsai Ing-wen said the territory was "certainly" capable of protecting its people amid China's live-fire drills around the island. In a Facebook post on August 5, Tsai said that the Taiwanese government is ready to respond and ensure everyone's safety. "Be at ease, be calm and live as usual," she wrote.
At the same time, Taiwan said it sent planes to drive away 49 Chinese aircraft into the island's air defense identification zone. All 49 aircraft crossed the median line in the Taiwan Strait. Taiwan's Defense Ministry announced on the same day that it had deployed aircraft, ships and ground-based missile systems to track aircraft and ships passing through the median line.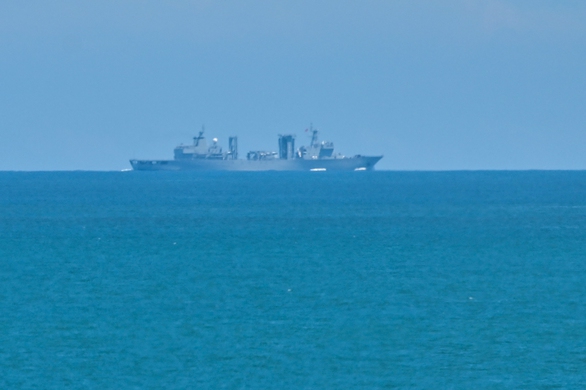 Chinese military ships sail near Pingtan Island, one of mainland China's closest points to the island of Taiwan, on August 5 – Photo: AFP
* The US criticized China for severing ties, calling on Beijing to end military exercises. US National Security Council spokesman John Kirby said China's suspension of cooperation on climate change and other issues was "irresponsible". "They think they are punishing us by shutting down this channel of cooperation. In fact, they are punishing the whole world because the climate crisis knows no geographical boundaries," Mr. Kirby said on August 5.
China's Foreign Ministry earlier announced the decision to end cooperation with the US in various military and civilian fields in retaliation for the visit to Taiwan by US House Speaker Nancy Pelosi. Beijing also holds live-fire drills around Taiwan.
Mr. Kirby said that China could cool down by ending "these provocative military exercises". Before that, the US summoned the Chinese ambassador to protest
* Russia, Turkey agree on a mechanism to pay for part of gas in rubles. Turkish President Recep Tayyip Erdogan holds talks with his Russian counterpart Vladimir Putin in the city of Sochi on August 5. This is the first visit of the leader of a NATO member state to Russia after the special military operation in Ukraine took place.
According to Sputnik News, the leaders of the two countries agreed that Russia will provide Turkey with 26 billion cubic meters of gas per year, and in the first phase, part will be paid in Russian rubles. Putin affirmed that the Turkish Stream gas pipeline is "one of the most important lifelines for the supply of Russian gas to Europe". This pipeline is currently running smoothly without any problems.
The two countries also discussed trade and economic issues, energy projects such as the construction of the Akkuyu Nuclear Power Plant in Turkey, grain exports from Ukraine and reached "major agreements". in the banking sector.
* Russia and Ukraine blame each other for the nuclear plant attack. President Volodymyr Zelensky of Ukraine accused Russia of being responsible for the "terrorist" attack on the Zaporizhzhia factory. Earlier, Moscow said that it was Kiev forces that attacked the plant, asserting that Mr. Zelensky's government was "nuclear terrorism".
Russia took control of the Zaporizhzhia factory from March 2022 after launching a military operation in Ukraine on February 24. This week, the International Atomic Energy Agency (IAEA) said the situation was "unsettled" at the plant.
* Israeli air strikes on Gaza kill 15 people. Israeli authorities said air strikes on Gaza on June 5 killed a senior commander of the Islamic Jihad armed group that Tel Aviv blamed for attacks on its territory. Islamic Jihad claims to have fired 100 rockets at Israel in response.
According to AFP news agency, at least 15 people were killed in the Israeli air strike, while Hamas, the Islamist armed group that controls the Gaza Strip, said the victims included a child.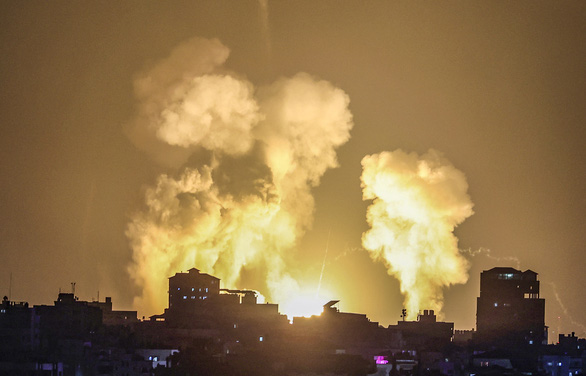 Smoke and fire light up an area in Gaza City after an Israeli air strike on August 5 – Photo: AFP
* Canada bans the import of handguns. The Canadian government announced that it will ban the import of handguns from August 19. It is part of a proposed gun violence response after a series of mass shootings in neighboring America. On August 5, Canada's Minister of Public Security, Marco Mendicino, said that these guns "have only one purpose, to kill people".
* Billionaire Elon Musk said he was tricked by Twitter. In a court filing, US billionaire Elon Musk accused Twitter of misleading him about important business activities before he announced his decision to agree to buy this social networking platform for $ 44 billion. .
After Twitter sued Musk to make the acquisition deal, the billionaire also filed a lawsuit against the company for breach of contract.
Watch the volcano erupt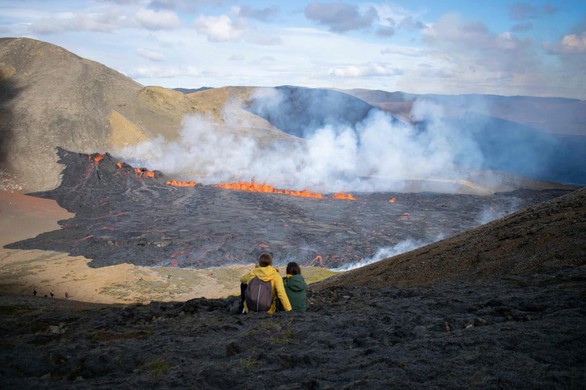 People watch lava from a newly erupted volcano in the Reykjanes peninsula, Iceland on August 4. This eruption did not release too much ash into the atmosphere. Iceland has 32 active volcanic systems, the most in Europe. On average, this country sees 1 volcanic eruption every 5 years – Photo: AFP