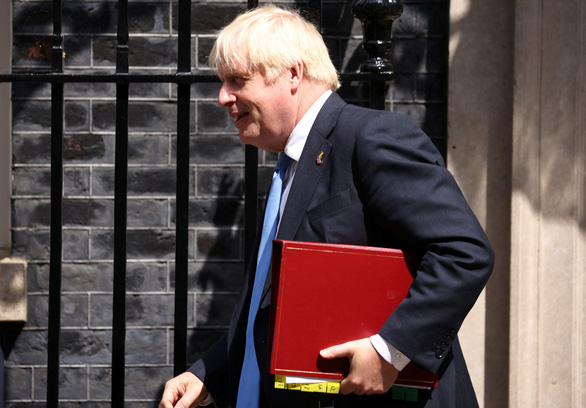 British Prime Minister Boris Johnson stepped out of the prime minister's residence in London early last week – Photo: REUTERS
* Petition in Ukraine calling for British Prime Minister to be Prime Minister of Ukraine. Thousands of Ukrainians have called for British Prime Minister Boris Johnson's citizenship to be granted and invited him to be Ukraine's new prime minister. The appeal was presented in the form of a petition posted on the website of the Government of Ukraine.
Within hours of posting on July 26, more than 2,500 people signed up. In theory, President of Ukraine Volodymyr Zelensky will see petitions from people if there are more than 25,000 signatures. Mr Johnson is about to step down as UK prime minister and in Kiev he is popular with many Ukrainians for his strongly pro-Ukrainian policies.
* "Future Vaccine Summit" in the US. The future COVID-19 vaccine should be a nasal spray vaccine, Dr. Anthony Fauci – President Joe Biden's chief scientific adviser suggested during a meeting to discuss the future of COVID-19 vaccines on July 26. .
The event, organized by the White House, is also described as a "future vaccine summit" with the participation of leaders of leading US pharmaceutical companies.
"We need vaccines that are more durable, have a wider range of action, and provide longer-lasting protection. We need vaccines that are able to protect people against multiple variants, and ultimately a vaccine. can protect us no matter what kind of mutation Mother Nature creates," said Dr. Ashish Jha, head of the Biden administration's COVID-19 task force.
* The US is expected to discharge at least 20 million barrels of oil. Reuters news agency quoted a senior US official as revealing on July 26. The form of stock clearance will be an auction, which means that the American business that pays the higher price will be bought.
The US has previously sold 125 million barrels of crude oil from the Strategic Petroleum Reserve (SPR) with 70 million barrels of this already delivered. The White House hopes the move will cool oil prices and inflation caused by the Ukraine conflict.
* Russia withdrew from the International Space Station (ISS), the US said it had not heard. The White House and the US National Aeronautics and Space Administration (NASA) both said they had not received an official notification from Moscow. However, both NASA head Bill Nelson and White House spokeswoman Karine Jean-Pierre confirmed Washington was studying options to "minimize the potential impact on the ISS if Russia withdrew by 2024".
Earlier, on July 26, Russian media reported that President Vladimir Putin had agreed in advance to the proposal of the director of the Roscosmos space agency to withdraw from the ISS to develop his own space station.
* 90 of France's 96 provinces are severely restricting water use. This unprecedented decision is due to the ongoing drought due to the heat and low rainfall. Only a few provinces in the country, including the Paris region, are not subject to restrictions on water use.
The most stringent water restrictions, including a ban on the use of water for agricultural irrigation, are in effect in the northwestern part of the Loire Basin as well as in the southeastern part of the Rhone.
* US President Joe Biden and Chinese President Xi Jinping are scheduled to talk by phone. The White House announces the talks will take place in this week. Tensions around Taiwan and the Russia-Ukraine conflict are expected to be two topics to be discussed during the call.
This will be the fifth phone call between the two leaders. It comes as China has issued heightened warnings to the Biden administration over the possibility of US House Speaker Nancy Pelosi visiting Taiwan.
* Italy says it doesn't need Russian gas. Minister of Ecological Transition Roberto Cingolani affirmed that as early as this winter, Italians will no longer depend on gas supplies from Russia..
The government of Rome has pledged to cut gas consumption by 7%. Thanks to stockpiles already exceeding 70% at the moment, Italy believes the first few months of winter will not need Russian gas.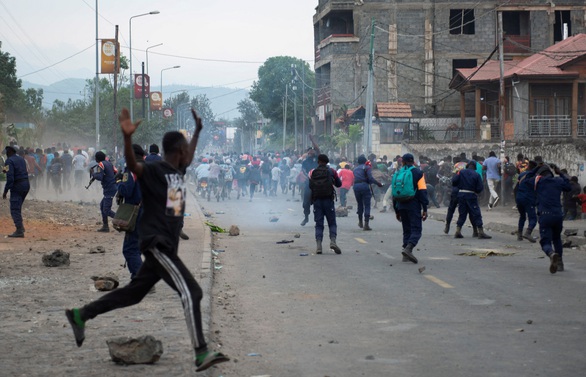 Congolese police disperse anti-UN protesters with tear gas on July 26 – Photo: REUTERS
* Anti-United Nations protests in the Democratic Republic of Congo (Africa) continue. At least three UN soldiers and 12 civilians were killed on July 26, the second day of protests in a row.
The protests were fueled by accusations that UN peacekeepers failed to protect civilians from armed militias. Security forces of UN buildings are said to have responded when protesters threw stones and petrol bombs at these places.
* Google is required to participate in stopping anti-abortion action. 17 Republican state attorneys general have asked Google to display anti-abortion centers on the search engine of the same name. The letter was published on July 26 in response to a call from Democrats in June, which urged Google not to display anti-abortion centers.
Anti-abortion centers have existed in various forms for years and are accused of spreading misinformation to make it more difficult for women to get an abortion.
Honoring intellectual sport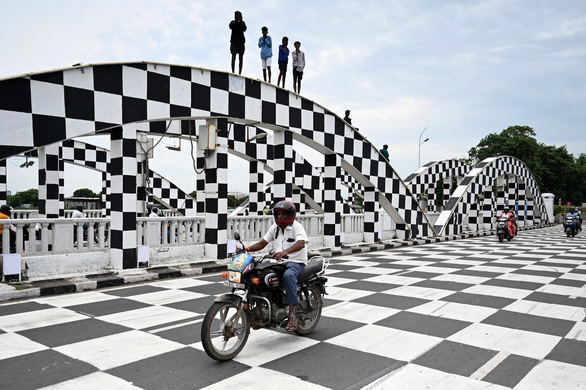 The Napier bridge in the city of Chennai, the capital of the Indian state of Tamil Nadu, has been adorned with the familiar black and white squares of the chessboard. This place will take place the 2022 Chess Olympiad from July 28 to August 10 with more than 100 participating countries. (AFP)