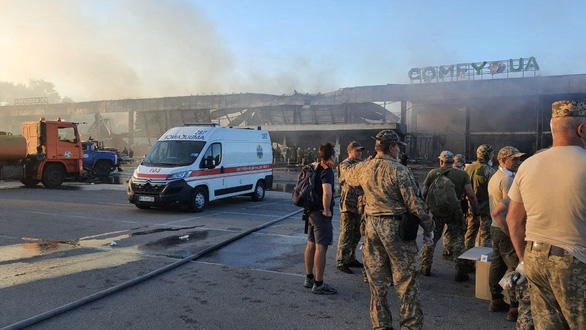 Rescuers at the shopping center hit by a Russian missile in Kremenchuk, in the Poltava region, Ukraine June 27, 2022 – Photo: REUTERS
Reuters news agency quoted local authorities as saying there were Two Russian missiles hit a crowded shopping center in the city center of Kremenchuk on June 27.. Ukrainian President Volodymyr Zelensky said there were more than 1,000 people in the shopping center at the time the rockets hit.
The incident left at least 13 people dead and 50 injured and the building burned.
* June 27, G7 leaders pledged to continue to support Ukraine as long as necessary. Meanwhile, President Zelensky wants to increase arms aid to Ukraine and asks the West to maintain pressure on Russia to be able to end the war this winter.
*Canada, the US, the UK and Japan plan to announce a ban on the import of certain gold goods from Russia.
*June 27, Russia's Foreign Ministry declares eight Greek diplomats unwelcome figures in the country, and give them eight days to leave Russia. On the same day Russia sanctioned 43 Canadian citizens and banned them from entering in a move in retaliation for Western sanctions.
Earlier, Russia sanctioned 61 Canadian officials and journalists, according to Reuters.
*On June 27, TASS news agency quoted adviser Yury Ushakov of President Putin said that the Russian leader accepted the invitation of Indonesia, the rotating chair of the G20 – the world's leading group of developed and emerging economies (G20) in November this year.
*On June 27, Jordanian authorities confirmed that there at least 12 dead and 251 injured in a chlorine gas leak in a tank at the country's port of Aqaba. Jordan has now urged residents to close their windows and stay indoors. The leak occurred because a tank of chlorine gas exported to Djibouti crashed during shipment.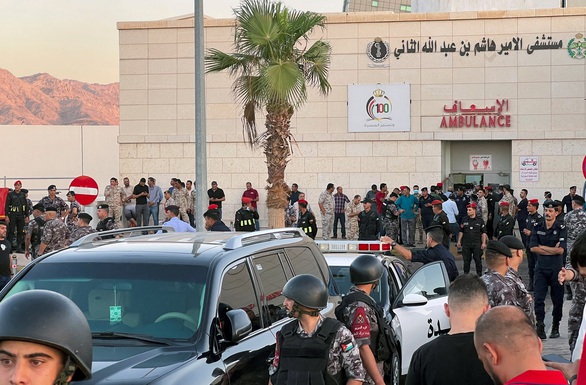 Members of the Jordanian Gendarmerie stand outside a hospital after a toxic gas leak from a storage tank in Jordan's port of Aqaba, June 27 – Photo: REUTERS
Chlorine is used to purify water, but if inhaled, it converts to hydrochloric acid, which can cause internal burns and a reaction that releases water in the lungs.
*Health Minister Brigitte Bourguignon urged people to wear masks again in crowded areas, especially on public transport as France has a wave of COVID-19 infections caused by new variants of the disease.
Wearing a mask at this time is voluntary but is considered a "citizen responsibility", according to Ms. Bourguignon.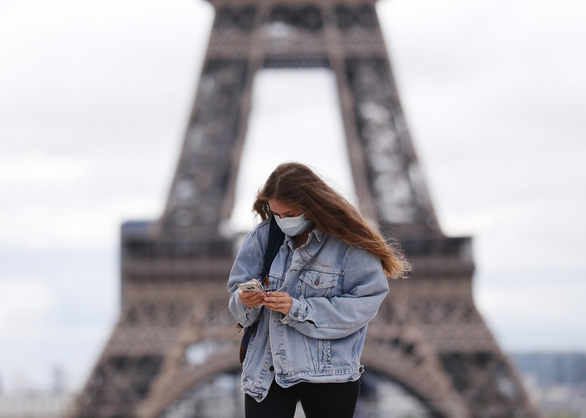 Health Minister Brigitte Bourguignon urged people to wear masks again in crowded areas – Photo: XINHUA
*On June 27, the state-owned electricity company Ceylon Electricity Board (CEB), the monopoly power supplier in Sri Lanka, proposed to increase electricity prices by 835%. to offset losses in the context that this country is suffering from a severe shortage of fuel.
Currently, all Sri Lankans using less than 30 kilowatts of electricity per month will have to pay a general fee of 54.27 rupees ($0.15). CEB is planning to raise this fee to 507.65 rupees ($1.44).
*June 27, US National Security Adviser Jake Sullivan said US President Joe Biden and Chinese President Xi Jinping would be in touch in "the next few weeks".
Oil prices rise
Regarding the market, US stocks ended a volatile session with a slight decrease on June 27, oil prices increased.
Oil prices rose as the G7 promised to tighten Russia's finances with new sanctions, including a plan to cap Russian oil prices.
Stocks fluctuated between up and down during the Wall Street session, and big growth stocks also led the way down.
The Dow Jones Industrial Average fell 62.42 points, or 0.2%, to 31,438.26. The S&P 500 index fell 11.63 points, or 0.30%, to 3,900.11 points. The Nasdaq Composite Index fell 83.07 points, or 0.72%, to 11,524.55.
The easing of COVID-19 restrictions in China has the effect of supporting the rest of the global stock indexes.
Brent crude oil futures rose $1.97, or 1.7%, to $115.09 a barrel. The price of US West Texas Intermediate CLc1 crude oil rose $1.95, or 1.8 percent, to $109.57 a barrel.
Gold price traded on the New York Stock Exchange on the morning of June 28 was 1,822 USD/ouce, down 8.18%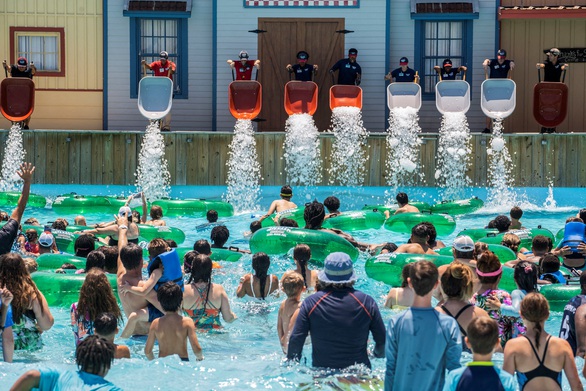 Pour ice into the pool – Photo: REUTERS
Staff at Typhoon Texas water park in Katy city, Texas (USA) created a unique way to cool off visitors in the hot weather, when pouring a lot of ice into a swimming pool on June 26. The weather in Katy this week sometimes reaches 35 degrees Celsius.