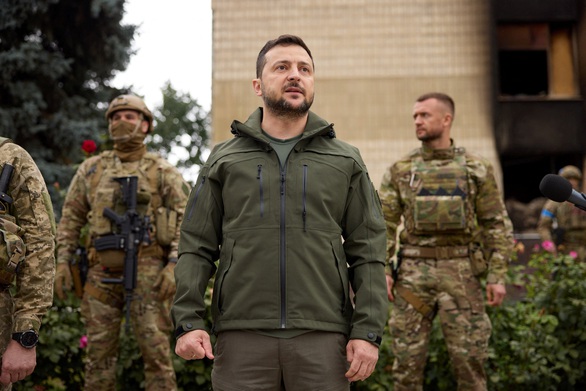 Ukrainian President Volodymyr Zelensky during a visit to the recaptured town of Izium on September 14 – Photo: REUTERS
* The President of Ukraine was injured after a traffic accident in the capital Kiev. According to Reuters news agency on September 15, spokesman Serhii Nykyforov of Ukrainian President Volodymyr Zelensky said that Zelensky's car was involved in a traffic accident in Kiev, but he was not seriously injured.
According to a post on Facebook, Mr Nykyforov did not say when the accident happened, but revealed that Mr Zelensky's car had collided with a private vehicle. "The president was examined by a doctor, no serious injuries were found."
The medical staff accompanying Mr. Zelensky treated the driver of the private vehicle and put him in an ambulance. Nykyforov added that the accident would be investigated.
Before that, Mr. Zelensky made a surprise visit to the front line on September 14. He visited the town of Izium in northeastern Ukraine, which Ukrainian forces recaptured last week.

* Armenia says 10km . occupied by neighboring Azerbaijan2 territory. Armenian Prime Minister Nikol Pachinian made the information on September 14 in the context of a conflict between the two countries that has killed many soldiers.
During a meeting with the National Assembly, the Prime Minister of Armenia reported that the neighboring country had occupied 40km2 territory since May and recently added 10km2.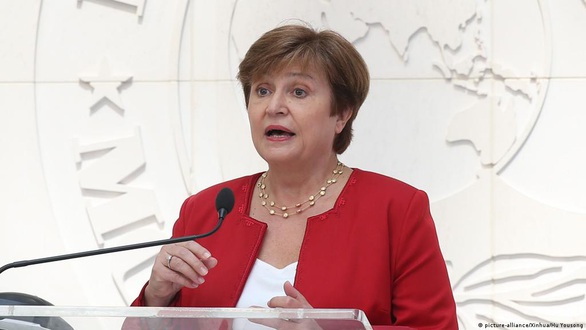 International Monetary Fund (IMF) Director Kristalina Georgieva – Photo: DW
* IMF calls on countries to persevere against inflation. On September 14, International Monetary Fund (IMF) Director General Kristalina Georgieva urged central banks to persevere in their fight against widespread inflation, and acknowledged that many economists were wrong in their forecasts. predicted that inflation would drop last year.
"Inflation is very stubborn and is happening more broadly than we thought… We need central banks to be resolute in fighting inflation," Ms. Georgieva stressed.
* France imposes limits on energy price increases. According to Reuters news agency, French Prime Minister Elisabeth Borne said her country would limit the increase in electricity and gas prices for households to 15% next year. The move is intended to ease the pain caused by Europe's worst energy crisis in decades for consumers.
The upper limit would cost the government 16 billion euros ($16 billion) but help prevent household costs of energy from more than doubling. France will also persist in funding the poorest, with payments of up to 200 euros per household for 12 million households.
Borne said the new cap on gas prices will come into effect from January 2023, while the new electricity price cap will come into effect a month later.
Global stock market declines on September 14 after inflation in the US increased higher than expected.
The Dow Jones Industrial Average rose 30.12 points, or 0.1%, to 31,135.09. The S&P 500 index rose 13.32 points, or 0.34%, to 3,946.01. The Nasdaq Composite rose 86.10 points, or 0.74%, to 11,719.68.
Meanwhile, European stocks also fell for the second consecutive session. The pan-European STOXX 600 index lost 0.86%. The MSCI Global Index fell 0.33%. MSCI recorded its biggest two-day drop in three months.
The price of US light sweet crude (WTI) rose 1.34% to $88.48 per barrel and Brent crude reached $94.10, up 1% on the day.
* Italian Senate approved raising the salary ceiling for officials. In a surprise vote on September 13, the Italian Senate approved a measure that would allow top officials of the police, armed forces and government ministries to be paid more than the current ceiling. currently is 240,000 euros/year ($239,688).
According to Reuters, the proposal was included at the last minute in an aid package aimed at helping businesses and families cope with the energy crisis. The bill still needs final approval by the House of Commons.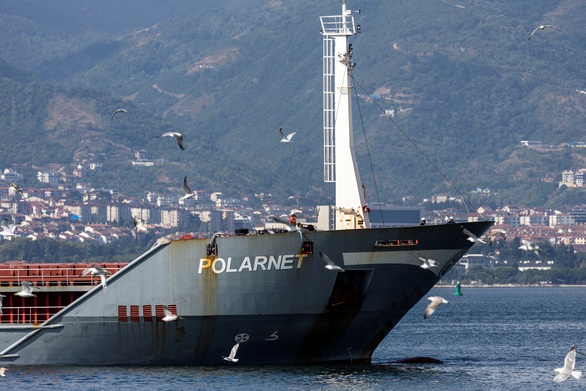 A Turkish-flagged cargo ship delivers Ukrainian grain to the port of Safiport Derince in the Gulf of Izmit, in Kocaeli province, Turkey – Photo: REUTERS
* Russia, UN dialogue on export agreement. On September 14, Russian President Vladimir Putin told United Nations Secretary-General Antonio Guterres that he welcomed "constructive" cooperation with the International Atomic Energy Agency (IAEA), after a visit to the plant. Ukraine's Zaporizhzhia nuclear force.
According to the Kremlin, during the call, Putin and Guterres also discussed an agreement to export Ukrainian grain from Black Sea ports, as well as to export Russian food and fertilizers.
* Ukraine accuses Russia of firing eight missiles at Kryvyi Rih. Anton Gerashchenko, an adviser to Ukraine's interior minister, said the southern Ukrainian city of Kryvyi Rih has faced rising water levels on the Inhulets river, after Russia fired eight cruise missiles at its infrastructure. local.
Mr. Gerashchenko posted a video allegedly showing a small bridge being washed away on Twitter. "The missile was aimed directly at the hydraulic structures. This caused the water level of the (river) Inhulets to rise, threatening the city," he wrote.
Kirill Timoshenko, the president's deputy, previously said there were no civilian casualties in the attack. The Russian side has not yet commented on the incident.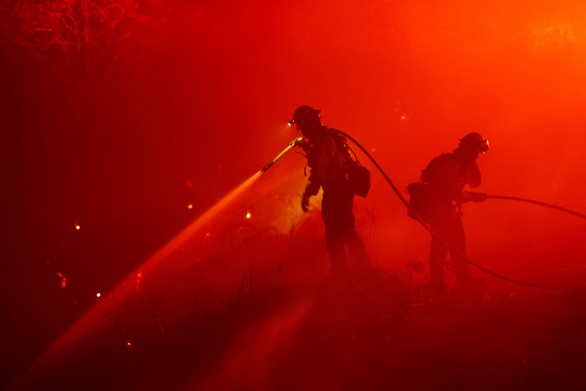 Firefighters try to control the Mosquito fire in Foresthill, California, USA – Photo: REUTERS
* Wildfires spread rapidly in California. A rapidly growing California wildfire threatened a series of small communities northeast of Sacramento on September 14, although firefighters had some success in containing the blaze. "Fire storm".
The Mosquito Fire has burned nearly 24,000 hectares of land, forcing about 11,000 people to evacuate in Foresthill, Volcanoville, Georgetown and other communities between Sacramento and California's Lake Tahoe.
* Iran, Uzbekistan signed 17 cooperation agreements. September 14, Iran and Uzbekistan have signed 17 cooperation documents on transport, cultural exchanges, customs, economic and trade cooperation, healthcare and many other fields, IRNA news agency reported.
At the joint committee meeting, Iranian President Ebrahim Raisi, who is on a visit to Uzbekistan, said that Tehran – Tashkent relations are not merely neighborly and regional links, but are also based on cultural and cultural ties. profound insight.
Seals "relax"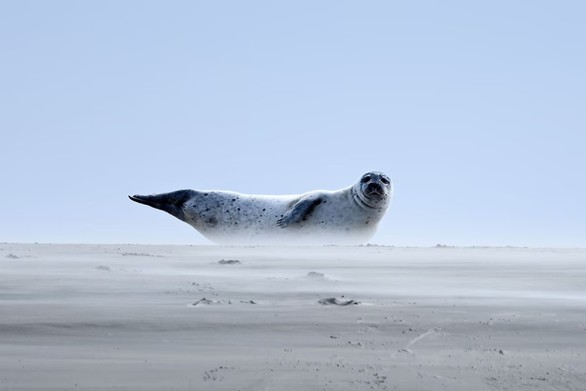 A seal lies on the beach of the North Sea in the village of Sonderho, Denmark in this photo taken September 6, 2022 – Photo: ANADOLU