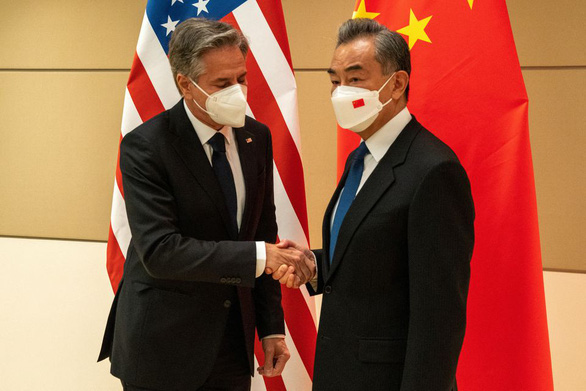 US Secretary of State Antony Blinken (left) meets Chinese Foreign Minister Wang Yi on the sidelines of the United Nations General Assembly in New York, US on September 23 – Photo: REUTERS
* Mr. Blinken and Mr. Wang Yi discussed Taiwan. On September 23, US Secretary of State Antony Blinken told his Chinese counterpart that maintaining peace and stability for Taiwan is extremely important.
Taiwan was at the center of a 90-minute "direct and honest" conversation between Blinken and Wang Yi on the sidelines of the United Nations General Assembly in New York, according to Reuters news agency.
In addition, Mr. Blinken also highlighted the impact if China provided material support for Russia's special military operation in Ukraine. US officials have said they have seen no evidence of such support from Beijing.
* The crown prince of Saudi Arabia discussed energy security with senior US officials. Saudi Crown Prince Mohammed bin Salman discussed energy security with the US senior adviser on energy security, Amos Hochstein, and the Middle East policy coordinator at the Saudi National Security Council. White House, Mr. Brett McGurk in Jeddah, Saudi Arabia.
Saudi Arabia's state news agency SPA said the two sides discussed bilateral relations, especially in the areas of energy security and investment, as well as development in the region.
* Leaders of the US, UK and Australia talk about the AUKUS agreement. In a statement marking the one-year anniversary of the AUKUS security agreement on September 23, the leaders of the US, UK and Australia said they had made significant progress in equipping nuclear-powered submarines for nuclear-powered submarines. Australia.
AUKUS is seen as an attempt by Western allies to push back against China's growing power and influence in the region.
* US Vice President discusses Taiwan security in Asia. On September 23, a senior Washington administration official said Vice President Kamala Harris will discuss Taiwan security in bilateral meetings with the leaders of Japan and South Korea when she visits the area. next week.
The meetings between Harris and the leaders of Japan and South Korea come not long after US President Joe Biden pledged to defend Taiwan in the event of an attack by China, according to Reuters news agency. China's Foreign Ministry reacted strongly to Mr. Biden's statement.
* Ecuador experimented with replanting corals to restore ecosystems. Ecuador's Galapagos National Park is testing different methods of coral replanting in an effort to restore vulnerable aquatic ecosystems.
Since 2020, they have been experimenting with growing corals on different surfaces such as bricks, cement or tying corals together and strung on metal frames, rearing them in a nursery before sending them to the seabed.
The gradual death of coral reefs affects the food supply chain for marine life, and is considered a serious consequence of climate change.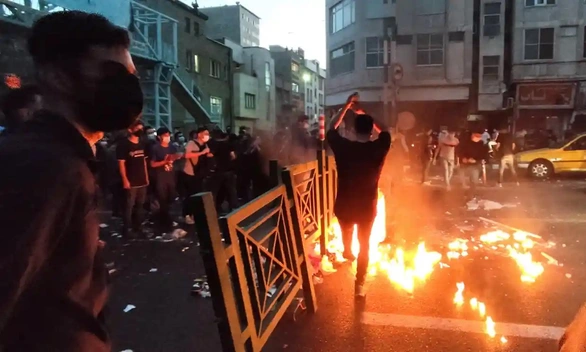 Protesters protest against the Iranian government after the death of Ms. Mahsa Amini – Photo: REUTERS
* The UN urged Iran not to use "unnecessary" force in the protests. United Nations (UN) Secretary-General Antonio Guterres has called on Iran's security forces to refrain from using "unnecessary force" against anti-government protests following the death of a woman killed by police. detained, according to AFP news agency.
Guterres raised the issue of human rights during a meeting with Iranian President Ebrahim Raisi. On September 23, the United Nations also expressed concern over reports of excessive use of force in peaceful protests in Iran, which has resulted in dozens of deaths and injuries.
Protests erupted across Iran after the death of 22-year-old Mahsa Amini, when she was detained by police for "wearing inappropriate clothing".
* The US did not regulate its nuclear activities after Putin's comments. On September 23, the White House said the United States saw no reason to regulate its nuclear activities following recent comments by Russian President Vladimir Putin.
"We take those threats very seriously. However, we see no reason to regulate nuclear activity at this time," White House press secretary Karine Jean-Pierre said.
Earlier, Mr Putin had hinted at his readiness to use nuclear weapons to defend the country, saying he would "use all available means to combat the threat to its territorial integrity". .
* Ukraine significantly reduced Iran's diplomatic presence. On September 23, Kiev said it would downgrade diplomatic relations with Tehran after Iran decided to supply drones to Russian forces, according to AFP news agency.
Ukrainian President Volodymyr Zelensky said that so far a total of eight Iranian-made drones have been shot down by Ukraine during the conflict in the country. Ukraine and the US accuse Iran of supplying Russia with drones. Tehran has denied the allegation.
Accordingly, Ukraine will significantly reduce the number of diplomatic staff of the Iranian embassy in Kiev.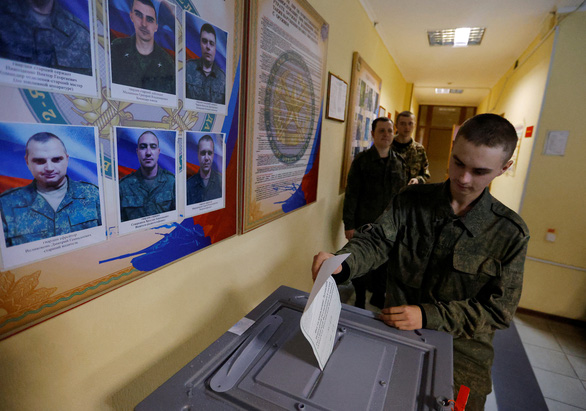 Soldiers of the self-proclaimed Lugansk People's Republic (LPR) vote in a referendum on annexation to Russia on September 23 – Photo: REUTERS
* The US president warned Russia to pay the price for "fake" referendums. On September 23, President Joe Biden warned Moscow of "severe and rapid" costs if it used "fake" referendums to annex more Ukrainian territory.
"The Russian referendums are a sham, a false pretext to try to annex parts of Ukraine by force, in clear violation of international law," Biden said. The US leader said the US would work with partners and allies to impose more economic sanctions on Russia, according to AFP news agency.
On the same day, the group of G7 countries also condemned Russia's "fake" referendums, asserting that the G7 will never recognize the results of these referendums, according to Reuters news agency.
The North Atlantic Treaty Organization (NATO) said it would step up help Kiev respond to Russia's referendums in the Ukrainian territories.
* The EU asked the UN to publish a report on the damage to Ukraine's infrastructure. On September 23, the European Union (EU) sent a letter to the United Nations (UN) asking it to publish a report on damage to telecommunications infrastructure in Ukraine since Russia launched the operation. military seven months ago.
In April, members of the United Nations' International Telecommunication Union (ITU) adopted a resolution to assist Ukraine in rebuilding its telecommunications infrastructure devastated by the war. The resolution also decides to undertake an assessment of the impact of the war in Ukraine on the ITU program and activities in the region, and to provide an assessment report on that matter.
However, so far the ITU has not released a report, according to AFP news agency. In a July news update, the ITU said 20 television centers in Ukraine were reported or confirmed to be destroyed, and 50 settlements were without television and radio service. In just the first four months of the military campaign, 796 cyber attacks against Ukraine were reported.
Climate protest in Indonesia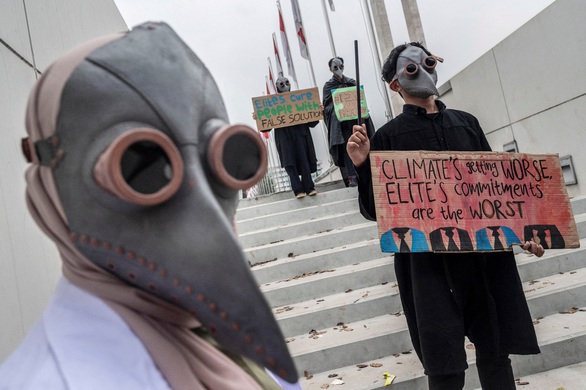 Environmental activists wear masks and carry banners during a rally of the Global Climate Strike campaign in Jakarta, Indonesia September 23 – Photo: REUTERS