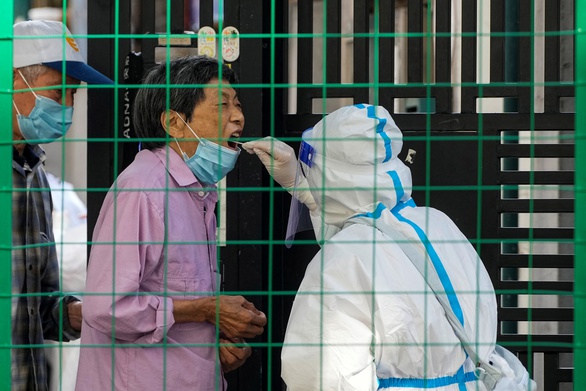 People in Shanghai city (China) tested for COVID-19 on June 9 – Photo: REUTERS
According to AFP news agency, Chinese authorities are trying to find a balance between controlling the epidemic and limiting the damage caused by blockade orders.
According to Xinhua News Agency, on June 9, Xi called for "effective coordination of disease control and prevention work with socio-economic development".
However, Xi insisted that "the dynamic 'Zero COVID' line (of China) must be resolutely upheld".
China is still pursuing a policy of stamping out all outbreaks, applying blockade measures, mass testing and mandatory isolation.
On June 9, Shanghai and Beijing (China) issued new COVID-19 warnings. Parts of Shanghai imposed new lockdowns, while Beijing's most populous district closed entertainment venues.
According to Reuters news agency, Shanghai unexpectedly conducted mass COVID-19 testing this weekend, just 10 days after the citywide blockade order was lifted.
Specifically, people in 14/16 districts of this city of 25 million people will take the test over the weekend. Several counties said residents were not allowed to leave their homes during the testing.
On Weibo, many people were surprised and even worried about the new test order. People in Shanghai need to prove they have been tested within 72 hours in order to access areas such as shopping malls, offices, metro or bus stations.