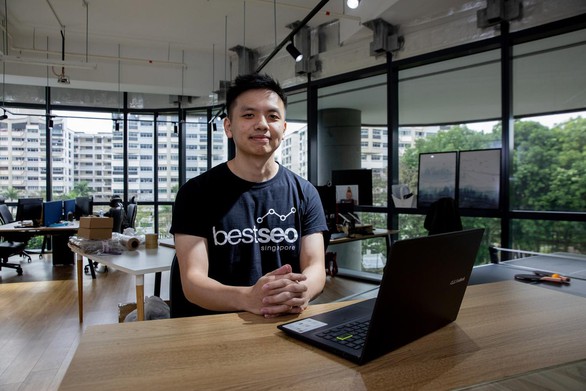 Mr. Jim Ng – Photo: Today
After starting a digital marketing agency in his own bedroom in 2019, Jim quickly realized that his company would need an office to grow.
The office will help increase the prestige, thereby attracting more customers, as well as separate the working environment from the personal living space.
Employees will also have a workplace where they can work harder and stay focused. A worthy investment!
When the company achieved a revenue of at least S$ 15,000 monthly (about VND 250 million), Jim decided to rent an office for two years in Woodlands, Singapore to set up the headquarters for Best SEO Marketing.
According to Today newspaper, when diving into reality, Jim quickly became disillusioned with other large and small expenses. Refurbishing the office costs nearly 40,000 Singapore dollars (about 700 million dong), not to mention the rent of more than 3,000 Singapore dollars per month (about 50 million dong). More than 60% of the company's cash reserves have poured into office space.
The ideal of a dream office where employees come to work, exchange and meet is gradually fading, as two new employees quit within six months of joining the company. .
The reason for leaving was unbelievably simple, the employee lived in Pasir Ris, while the office was in Woodlands. On average, it takes them three hours a day just to get from home to office
Not to mention, it was November 2020, the peak period of COVID-19. People are starting to appreciate working remotely. Meetings can be easily done through online applications such as Zoom or Google Meet. The advantage of online meetings is that they can be recorded and easily stored for future reference.
So after talking with the staff, Jim made the decision to use the office only twice a month. Employees say they really enjoy working from home, they enjoy the autonomy and comfort in their familiar space.
Having an office isn't really necessary for a digital services business like Jim's. Since this place is not used to store any items, everything needed for work is neatly located on the Internet and everyone can work remotely and still be very productive.
I regret thinking about how I wasted my money, time and effort, but in the process, Jim Ng has learned three invaluable lessons for a young entrepreneur:
1. Don't rent an office just to look trustworthy. The office is not needed when we can work online.
2. Office renovation is really expensive.
3. Trust employees and judge them more intuitively. Performance shouldn't be based on being late to work or staying in the office.